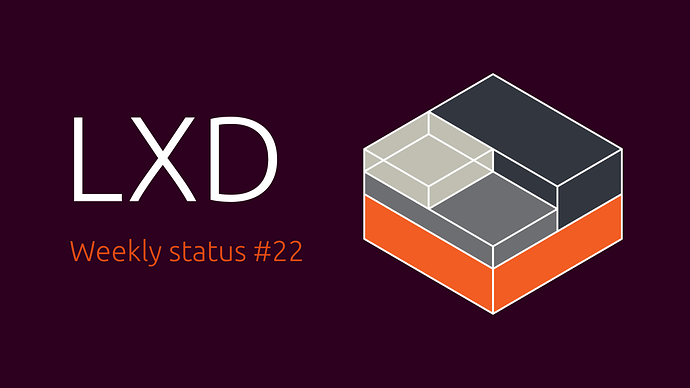 Weekly status for the week of the 30th of October to the 5th of November 2017.
Introduction
Another pretty quiet week for LXD as we keep working on a number of larger features that aren't ready to land yet. Now that the Ubuntu 18.04 development release is open for contributions, we're pushing LXD 2.19, LXC 2.1.1 and LXCFS 2.0.8 there which will then trickle down to our various PPAs, stable Ubuntu releases and backports.
@brauner was also busy talking about LXD and system containers in St Petersburg, Russia!
Upcoming conferences and events
FOSDEM 2018 (Brussels, February 2018)
Ongoing projects
The list below is feature or refactoring work which will span several weeks/months and can't be tied directly to a single Github issue or pull request.
Stable release work for LXC, LXCFS and LXD.
Upstream changes
The items listed below are highlights of the work which happened upstream over the past week and which will be included in the next release.
LXD
LXC
LXCFS
Nothing to report this week
Distribution work
This section is used to track the work done in downstream Linux distributions to ship the latest LXC, LXD and LXCFS as well as work to get various software to work properly inside containers.
Ubuntu
Uploaded LXD 2.19-0ubuntu1 to the 18.04 development release.
Uploaded LXCFS 2.0.8 to Ubuntu 16.04, 17.04, 17.10 and 18.04.
Uploaded LXC 2.2.1-0ubuntu1 to the 18.04 development release.
Snap
No change to be reported this week.