Hopefully this is the right section for this, i apologize if its not.
So I am tasked with setting up a lab assignment for some students in a networking class. I am running into some issues when i am setting up the following configuration, and i would like to ask for someones help , or maybe some pointers for my setup.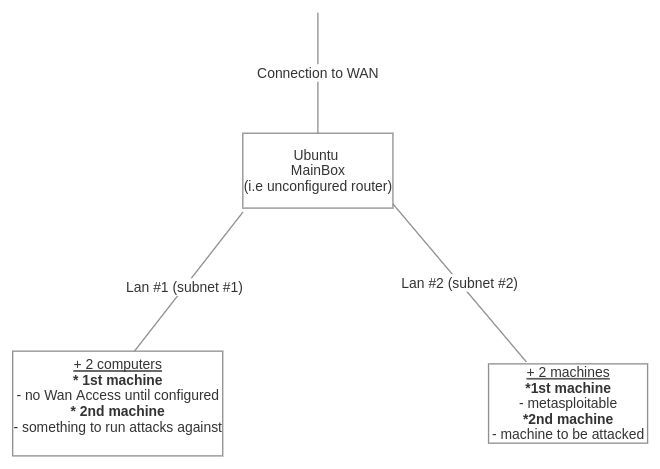 The idea is the following ( i will use one student as an example)…
I will have one student able to ssh into the Ubuntu (not sure if it should be a container or vm) MainBox , which is labeled in the diagram. The ubuntu Mainbox will have connection to WAN ,but it will not be able to communicate with anything on LAN #1 or LAN#2 , something like a virtual wire is plugged but not setup to communicate.
The student will then be tasked to configure the MainBox as a router by properly setting up the iptables . The MainBox will have 3 VNics ( 1 for WAN, 1 for LAN #1, and 1 for LAN#2).
The setup needs to connect LAN#1 to the MainBox and WAN , and LAN#2 to MainBox and WAN, and also LAN#1 should communicate with LAN #2.
My question is how can i setup an LXD configuration to work in the following way …
Also, lets say i have multiple students (i.e 3), and i want to make sure they each do their own work and whatever eachone does with the iptables and configuration stays seperate from the other ? would having seperate user accounts be helpful in this situation ? Should i have this setup for each student (Possible as a template setup and then copied for each student)?