Hello and greetings!
First of all let me tell what network configuration I am trying to achieve:
LXC container should be exposed to my local network
LXC container should have internet access
Here's what I have been able to achieve so far: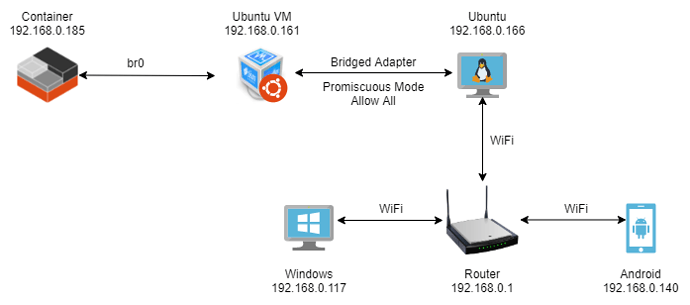 I have referred to Converting eth0 to br0 and getting all your LXC or LXD onto your LAN | Ubuntu to achieve requirement #1 in the above configuration. However, LXC does not have internet connection.
Some other observations:
I am able to ping to & from all devices on the network except the LXC container.
I am able to ping to & from LXC container to it's host: the Ubuntu VM.
I referred to some topics on this forum which are relevant to my problem, but no avail. Any ideas as to how to enable internet access inside container?
---
On Host (Ubuntu VM)
ajinkya@metaverse:~$ lsb_release -a
No LSB modules are available.
Distributor ID:	Ubuntu
Description:	Ubuntu 20.04.2 LTS
Release:	20.04
Codename:	focal
ajinkya@metaverse:~$ lxc-ls --version
4.0.6
ajinkya@metaverse:~$ uname -a
Linux metaverse 5.11.0-25-generic #27~20.04.1-Ubuntu SMP Tue Jul 13 17:41:23 UTC 2021 x86_64 x86_64 x86_64 GNU/Linux
------------------------------------------------------------------------------------
ajinkya@metaverse:~$ ip a show
1: lo: <LOOPBACK,UP,LOWER_UP> mtu 65536 qdisc noqueue state UNKNOWN group default qlen 1000
    link/loopback 00:00:00:00:00:00 brd 00:00:00:00:00:00
    inet 127.0.0.1/8 scope host lo
       valid_lft forever preferred_lft forever
    inet6 ::1/128 scope host 
       valid_lft forever preferred_lft forever
2: enp0s3: <BROADCAST,MULTICAST,UP,LOWER_UP> mtu 1500 qdisc fq_codel master br0 state UP group default qlen 1000
    link/ether 08:00:27:db:a6:da brd ff:ff:ff:ff:ff:ff
3: br0: <BROADCAST,MULTICAST,UP,LOWER_UP> mtu 1500 qdisc noqueue state UP group default qlen 1000
    link/ether 08:00:27:db:a6:da brd ff:ff:ff:ff:ff:ff
    inet 192.168.0.161/24 brd 192.168.0.255 scope global dynamic br0
       valid_lft 85283sec preferred_lft 85283sec
    inet6 fd01::124:c625:211:6384/64 scope global temporary dynamic 
       valid_lft 251sec preferred_lft 251sec
    inet6 fd01::a00:27ff:fedb:a6da/64 scope global dynamic mngtmpaddr 
       valid_lft 251sec preferred_lft 251sec
    inet6 fe80::a00:27ff:fedb:a6da/64 scope link 
       valid_lft forever preferred_lft forever
4: veth1000_JY5u@if2: <BROADCAST,MULTICAST,UP,LOWER_UP> mtu 1500 qdisc noqueue master br0 state UP group default qlen 1000
    link/ether fe:03:d9:b4:05:29 brd ff:ff:ff:ff:ff:ff link-netnsid 0
    inet6 fe80::fc03:d9ff:feb4:529/64 scope link 
       valid_lft forever preferred_lft forever

------------------------------------------------------------------------------------
ajinkya@metaverse:~$ brctl show
bridge name	bridge id		    STP enabled	     interfaces
br0		    8000.080027dba6da	no		         enp0s3
							                     veth1000_JY5u
------------------------------------------------------------------------------------
ajinkya@metaverse:~$ cat /etc/default/lxc-net
# This file is auto-generated by lxc.postinst if it does not
# exist.  Customizations will not be overridden.
# Leave USE_LXC_BRIDGE as "true" if you want to use lxcbr0 for your
# containers.  Set to "false" if you'll use virbr0 or another existing
# bridge, or mavlan to your host's NIC.
USE_LXC_BRIDGE="false"

# If you change the LXC_BRIDGE to something other than lxcbr0, then
# you will also need to update your /etc/lxc/default.conf as well as the
# configuration (/var/lib/lxc/<container>/config) for any containers
# already created using the default config to reflect the new bridge
# name.
# If you have the dnsmasq daemon installed, you'll also have to update
# /etc/dnsmasq.d/lxc and restart the system wide dnsmasq daemon.
LXC_BRIDGE="lxcbr0"
LXC_ADDR="10.0.3.1"
LXC_NETMASK="255.255.255.0"
LXC_NETWORK="10.0.3.0/24"
LXC_DHCP_RANGE="10.0.3.2,10.0.3.254"
LXC_DHCP_MAX="253"
# Uncomment the next line if you'd like to use a conf-file for the lxcbr0
# dnsmasq.  For instance, you can use 'dhcp-host=mail1,10.0.3.100' to have
# container 'mail1' always get ip address 10.0.3.100.
#LXC_DHCP_CONFILE=/etc/lxc/dnsmasq.conf

# Uncomment the next line if you want lxcbr0's dnsmasq to resolve the .lxc
# domain.  You can then add "server=/lxc/10.0.3.1' (or your actual $LXC_ADDR)
# to your system dnsmasq configuration file (normally /etc/dnsmasq.conf,
# or /etc/NetworkManager/dnsmasq.d/lxc.conf on systems that use NetworkManager).
# Once these changes are made, restart the lxc-net and network-manager services.
# 'container1.lxc' will then resolve on your host.
#LXC_DOMAIN="lxc"
------------------------------------------------------------------------------------
ajinkya@metaverse:~$ cat /etc/lxc/default.conf 
lxc.net.0.type = veth
lxc.net.0.link = br0
lxc.net.0.flags = up
lxc.net.0.hwaddr = 00:16:3e:xx:xx:xx
------------------------------------------------------------------------------------
ajinkya@metaverse:~$ cat .config/lxc/default.conf
lxc.include = /etc/lxc/default.conf
lxc.idmap = u 0 100000 65536
lxc.idmap = g 0 100000 65536
------------------------------------------------------------------------------------
ajinkya@metaverse:~$ lxc-ls --fancy
NAME STATE   AUTOSTART GROUPS IPV4          IPV6                     UNPRIVILEGED 
con1 RUNNING 0         -      192.168.0.185 fd01::216:3eff:fe67:d14e true 
------------------------------------------------------------------------------------

On container
root@con1:/# lsb_release -a
No LSB modules are available.
Distributor ID:	Ubuntu
Description:	Ubuntu 16.04.7 LTS
Release:	16.04
Codename:	xenial
root@con1:/# uname -a
Linux con1 5.11.0-25-generic #27~20.04.1-Ubuntu SMP Tue Jul 13 17:41:23 UTC 2021 x86_64 x86_64 x86_64 GNU/Linux
------------------------------------------------------------------------------------
root@con1:/# ip a show
1: lo: <LOOPBACK,UP,LOWER_UP> mtu 65536 qdisc noqueue state UNKNOWN group default qlen 1000
    link/loopback 00:00:00:00:00:00 brd 00:00:00:00:00:00
    inet 127.0.0.1/8 scope host lo
       valid_lft forever preferred_lft forever
    inet6 ::1/128 scope host 
       valid_lft forever preferred_lft forever
2: eth0@if4: <BROADCAST,MULTICAST,UP,LOWER_UP> mtu 1500 qdisc noqueue state UP group default qlen 1000
    link/ether 00:16:3e:67:d1:4e brd ff:ff:ff:ff:ff:ff link-netnsid 0
    inet 192.168.0.185/24 brd 192.168.0.255 scope global eth0
       valid_lft forever preferred_lft forever
    inet6 fd01::216:3eff:fe67:d14e/64 scope global mngtmpaddr dynamic 
       valid_lft 272sec preferred_lft 272sec
    inet6 fe80::216:3eff:fe67:d14e/64 scope link 
       valid_lft forever preferred_lft forever
------------------------------------------------------------------------------------
root@con1:/# ping google.com
ping: unknown host google.com
------------------------------------------------------------------------------------
root@con1:/# ping 192.168.0.161
PING 192.168.0.161 (192.168.0.161) 56(84) bytes of data.
64 bytes from 192.168.0.161: icmp_seq=1 ttl=64 time=0.115 ms
64 bytes from 192.168.0.161: icmp_seq=2 ttl=64 time=0.133 ms
64 bytes from 192.168.0.161: icmp_seq=3 ttl=64 time=0.189 ms
64 bytes from 192.168.0.161: icmp_seq=4 ttl=64 time=0.127 ms
^C
--- 192.168.0.161 ping statistics ---
4 packets transmitted, 4 received, 0% packet loss, time 3069ms
rtt min/avg/max/mdev = 0.115/0.141/0.189/0.028 ms
------------------------------------------------------------------------------------