I'm running a setup as:
Host:

Ubuntu 20.04.3 LTS (Fully patched as of today)
AMD EPYC 7302P 16-Core
128G DDR4
1G network
1x2TB nvme (SAMSUNG MZWLJ1T9HBJR-00007)

lxd: 4.0.7 (snap)
zfs:

zfs-0.8.3-1ubuntu12.12
zfs-kmod-0.8.3-1ubuntu12.12
The setup of the LXD host has followed this guide on every aspect: Production setup | LXD
The zfs-pool is default as per lxd-init and uses the single NVME disk on its own partition. (We are about to expand this with more disk-devices soon to mitigate future problems)
The problem description
One container is running a websocket service (ws://) accepting about 250 tcp connections normally.
The problem manifest itself such as that the websocket service "chokes" gradually as connections ramp up. Its starts as early as at about 30-40 and eventually only responds sporadically.
What about the service?
I would have suspected the service itself to be the culprit, if it wasn't that the "choking" behavior seem to propagate to the container itself at tiems. E.g. keyboard entries, commands and outputs completely freezes for about a few seconds now and then and then resumes.
Observations and actions
None of the other services or containers has this problem.
The disk is at about 60% usage and 35% frag.
No iowait can be observed.
CPU utilization is 7/16 (E.g. shouldn't be an issue)
We have replaced the container (re-install) but the problems come back.
We get the same problem on a different identical host.
Only one of the CPU:s is running at 100% (out of 16) so the blocking behavior shouldn't be the cause of a CPU exhaustion.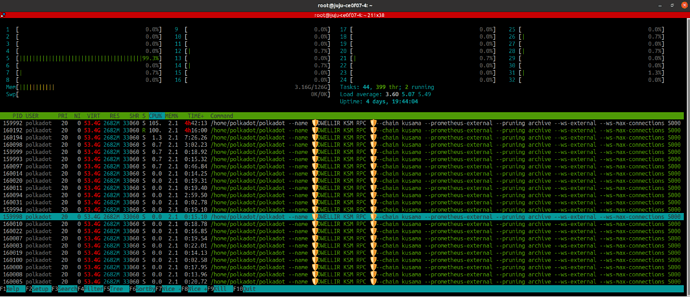 Similar issue before
I've seen this behavior before (In this thread) and at that point I thought the zfs component would be the issue. I managed at that point to get out of the situation by removing the service itself. But now that I got to this situation again, on a completely different system, I need to understand on how to pursue this issue fundamentally.
My next step - my questions.
I will try to run the service directly on the host, to see if LXD is the issue here but I have some questions:
Is there any default capacity constraints on a lxd container which I might be hitting on this node?
Is there any recommended settings on zfs pools/volumes that is intended to be used with lxd containers on SSD/nvme such as:
zfs set primarycache=metadata lxdhosts/containers/juju-46be60-0
zfs set secondarycache=metadata lxdhosts/containers/juju-46be60-0
Is there any professional help to get on LXD/ZFS to assist me in finding the problem at hand?