Hello,
I want to set a specify a public to a container to avoid NAT. My network look like so,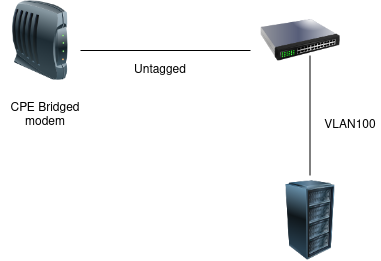 The ISP has provided a fiber modem which is in bridge mode. I have connected it to a switch which has a VLAN 100 defined. The switch tags the traffic and connects to the server which has the LXD container.
The LXD host netwok looks like this,
$ ip link show vlan100
60: vlan100@eno1: <BROADCAST,MULTICAST,UP,LOWER_UP> mtu 1500 qdisc noqueue state UP mode DEFAULT group default qlen 1000
    link/ether 12:34:56:78:12:23 brd ff:ff:ff:ff:ff:ff

tcpdump on vlan100 interface shows the arp requests coming from WAN side, so i know it is working.
The ISP has provided me a public ip address (e.g. 202.16.1.2) which i want to assign to a container. It is not clear to what kind of network should i use.
I tried the routed approach for debian like this, but the container is not able to ping the internet.
#lxc profile show routed_debian
config:
  user.network-config: |
    #cloud-config
    version: 2
    ethernets:
        eth0:
          dhcp4: false
          dhcp6: false
          routes:
          - to: 0.0.0.0/0
            via: 169.254.0.1
            on-link: true
  user.user-data: |
    #cloud-config
    bootcmd:
      - echo 'nameserver 8.8.8.8' > /etc/resolvconf/resolv.conf.d/tail
      - systemctl restart resolvconf
description: Default LXD profile
devices:
  eth0:
    ipv4.address: 202.16.1.2
    name: eth0
    nictype: routed
    parent: vlan100
    type: nic
name: routed_debian
used_by:
- /1.0/instances/turnpublic

Any help would be much appreciated.