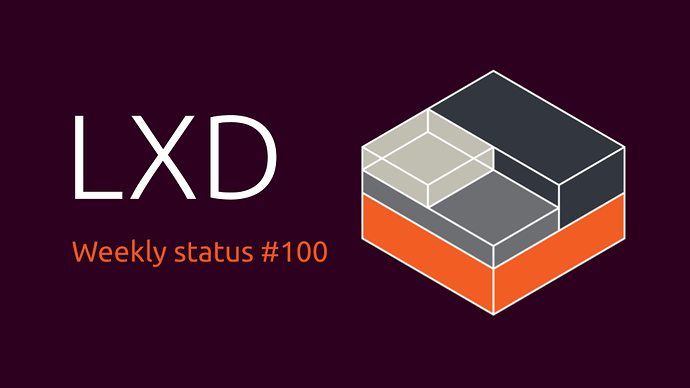 Weekly status for the weeks of the 27th of May to the 2nd of June.
Introduction
This past week wasn't terribly busy for the LXD team due to a combination of holidays in Europe and additional time off taken to get long weekends.
But that didn't prevent several bugfixes from getting included into LXC and LXD and ongoing work around our database backend and networking rework to continue.
We've also merged support for both Devuan and Kali in distrobuilder, both of which now have daily images published for consumption by LXC and LXD users.
We're still looking at adding those OpenWRT images too, which hopefully will make it later this week.
Main area of focus now is fixing issues and clearing backporting backlog, planning for LXD 3.14 next week and the LXC, LXD and LXCFS 3.0.4 releases also planned for next week.
Ongoing projects
The list below is feature or refactoring work which will span several weeks/months and can't be tied directly to a single Github issue or pull request.
Rework of internal LXD storage handling
Dqlite 1.0
Various kernel work
Stable release work for LXC, LXCFS and LXD
Upstream changes
The items listed below are highlights of the work which happened upstream over the past week and which will be included in the next release.
LXD
LXC
LXCFS
Nothing to report this week
Distrobuilder
Distribution work
This section is used to track the work done in downstream Linux distributions to ship the latest LXC, LXD and LXCFS as well as work to get various software to work properly inside containers.
Ubuntu
Nothing to report this week
Snap
Nothing to report this week