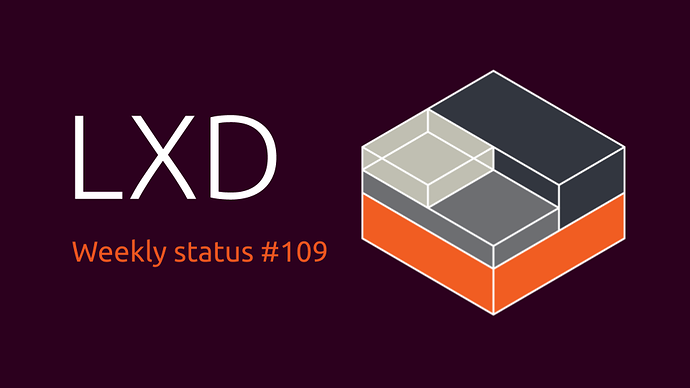 Weekly status for the weeks of the 29th July to the 4th of August.
Introduction
This past week was a relatively quiet one as we had several members of the team away.
The detailed release notes for LXC 3.2.1 and LXCFS 3.1.2 were made available.
On the LXD side, work continued on the internal rework of device handling with the the proxy device being moved over to the new common device interface framework.
Several limitations in the Bridged IP filtering feature were removed so that you can now use the IP filtering feature without having to use LXD's built in DHCP server (dnsmasq) so long as you do specify the ipv4.address or ipv6.address fields statically on the device in LXD (and ensure the container configures its interface to use the same IP address).
Upcoming events
Ongoing projects
The list below is feature or refactoring work which will span several weeks/months and can't be tied directly to a single Github issue or pull request.
Rework of internal LXD device handling
Rework of internal LXD storage handling
Ubuntu Core 18 support in distrobuilder
Cloud-init for all distrobuilder images
Various kernel work
Stable release work for LXC, LXCFS and LXD
Upstream changes
The items listed below are highlights of the work which happened upstream over the past week and which will be included in the next release.
LXD
LXC
LXCFS
Nothing to report this week
Distrobuilder
Nothing to report this week
Distribution work
This section is used to track the work done in downstream Linux distributions to ship the latest LXC, LXD and LXCFS as well as work to get various software to work properly inside containers.
Ubuntu
Nothing to report this week
Snap
Introduced a new 3.15 track
Fixed CGroupV2 support
Cherry-picked liblxc fixes