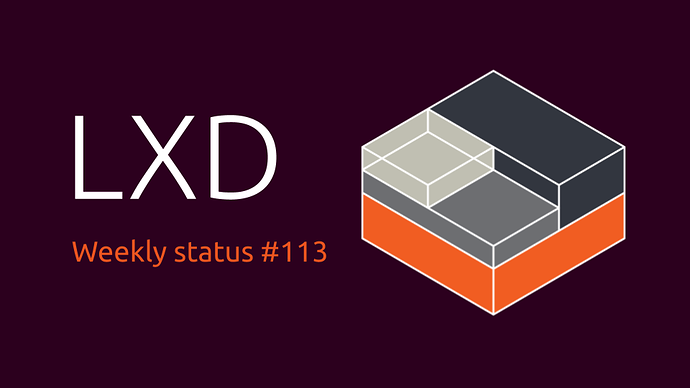 Weekly status for the weeks of the 26th August to the 1st of September.
Introduction
This past week has seen the DQLITE 1.0 release along with it's own web site launch. DQLITE is the distributed SQLITE database engine used in LXD for clustering and developed by the LXD team. However it is a separate project that is not tied to LXD. This release means the API for DQLITE is now stable.
On the LXD side, as well as the ongoing work to migrate the disk device type to the new device framework, changes were also made to update LXD to work with the DQLITE API changes in the 1.0 release.
An updated AppArmor profile was added to prevent containers from writing to /proc/acpi/** when running privileged containers.
A bug was fixed in the 3.0 LTS branch that prevented the proxy device from starting in TCP mode when run inside the snap.
On the LXC side, as well as adding the same AppAmor profile update as LXD above, there was also support added for the cgroup2 freezer and a regression fixed in lxc-attach to ensure the exit status is returned.
On the distrobuilder new documentation has been added to the project to make it more accessible for new and existing users.
Upcoming events
Ongoing projects
The list below is feature or refactoring work which will span several weeks/months and can't be tied directly to a single Github issue or pull request.
Rework of internal LXD device handling
Rework of internal LXD storage handling
Distrobuilder 1.0 release
Various kernel work
Stable release work for LXC, LXCFS and LXD
Upstream changes
The items listed below are highlights of the work which happened upstream over the past week and which will be included in the next release.
LXD
LXC
LXCFS
Nothing to report this week
Distrobuilder
Distribution work
This section is used to track the work done in downstream Linux distributions to ship the latest LXC, LXD and LXCFS as well as work to get various software to work properly inside containers.
Ubuntu
Nothing to report this week
Snap
Nothing to report this week