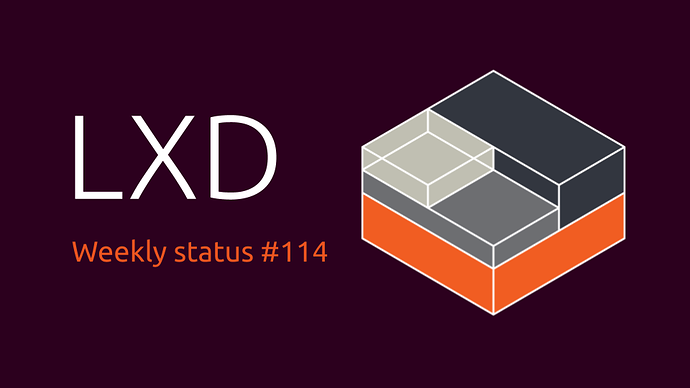 Weekly status for the week of the 2nd September to the 8th of September.
Introduction
This past week saw the release of LXD 3.17 which includes most of the changes added to LXD in the last week.
LXD now has the ability to accept configuration from STDIN for lxc init and lxc launch commands, which eases the creation of containers with complex configuration (see LXD 3.17 release notes for more details and example usage).
The device re-work project has been completed, with the remaining unix-char, unix-block and disk device types being moved across. Work has now started on re-working the storage API in a similar fashion.
A bug in the way client URL paths were encoded that prevented modifying resources that had spaces or other non alphanumeric characters in them has been fixed.
On the LXC front there were some improvements to cgroup management and loop device setup.
There was also an improvement added to LXCFS to make the /sys/devices/system/cpu/online emulation consistent when using CPU quota.
Finally, in distrobuilder this week, support for the distribution Apertis was added and our support for OpenWRT distribution was improved.
@brauner and @stgraber from the LXD team are in Lisbon, Portugal this week attending and presenting at the Linux Plumbers Conference (details below).
Upcoming events
Ongoing projects
The list below is feature or refactoring work which will span several weeks/months and can't be tied directly to a single Github issue or pull request.
Rework of internal LXD storage handling
Distrobuilder 1.0 release
Various kernel work
Stable release work for LXC, LXCFS and LXD
Upstream changes
The items listed below are highlights of the work which happened upstream over the past week and which will be included in the next release.
LXD
LXC
LXCFS
Distrobuilder
Distribution work
This section is used to track the work done in downstream Linux distributions to ship the latest LXC, LXD and LXCFS as well as work to get various software to work properly inside containers.
Ubuntu
Nothing to report this week
Snap
Updated to LXD 3.17
Updated nvidia-container to 3.0.4