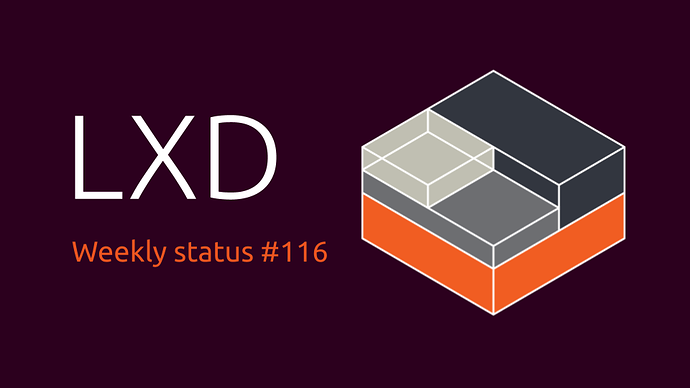 Weekly status for the week of the 16th September to the 22nd of September.
Introduction
This past week the entire LXD team have been working together in Paris on the recently announced virtual machine support in LXD.
Work continued on changing references of "container" to "instance" in the code base to accommodate a new instance type for virtual machines, and a preliminary demo of VM support running on ZFS was demoed to the team. This included bridged networking support using TAP adapters, VM image downloads and support for displaying IP addresses and other metrics in the lxc list and lxc info commands by using an agent running inside the VM.
In addition several minor bugs where fixed in LXD and distrobuilder, and the documentation was improved in LXC.
Upcoming events
Ongoing projects
The list below is feature or refactoring work which will span several weeks/months and can't be tied directly to a single Github issue or pull request.
Virtual machine support
Rework of internal LXD storage handling
Distrobuilder 1.0 release
Various kernel work
Stable release work for LXC, LXCFS and LXD
Upstream changes
The items listed below are highlights of the work which happened upstream over the past week and which will be included in the next release.
LXD
LXC
LXCFS
Nothing to report this week
Distrobuilder
Distribution work
This section is used to track the work done in downstream Linux distributions to ship the latest LXC, LXD and LXCFS as well as work to get various software to work properly inside containers.
Ubuntu
Nothing to report this week
Snap
Updated nvidia-container to 1.0.6
Cherry-picked upstream LXD fixes