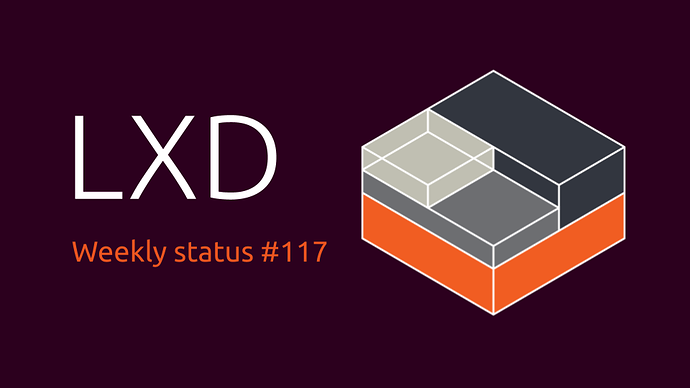 Weekly status for the week of the 23rd to the 29th of September.
Introduction
The big internal refactoring ahead of the introduction of virtual machine support has continued over this past week, slowly trying to split all of the container management logic into individual Go packages, fixing some bugs along the way.
One new feature which got added is the concept of cluster member roles, right now this only includes database as an initial role, matching the database flag that was already present, but it will become the foundation for more member roles in the near future.
On the image side of things, a number of issues around networking and cloud-init support have been fixed and we now have daily testing for full network connectivity and cloud-init provisioning.
Upcoming events
Ongoing projects
The list below is feature or refactoring work which will span several weeks/months and can't be tied directly to a single Github issue or pull request.
Virtual machine support
Rework of internal LXD storage handling
Distrobuilder 1.0 release
Various kernel work
Stable release work for LXC, LXCFS and LXD
Upstream changes
The items listed below are highlights of the work which happened upstream over the past week and which will be included in the next release.
LXD
LXC
LXCFS
Nothing to report this week
Distrobuilder
Nothing to report this week
Distribution work
This section is used to track the work done in downstream Linux distributions to ship the latest LXC, LXD and LXCFS as well as work to get various software to work properly inside containers.
Ubuntu
Nothing to report this week
Snap
Nothing to report this week