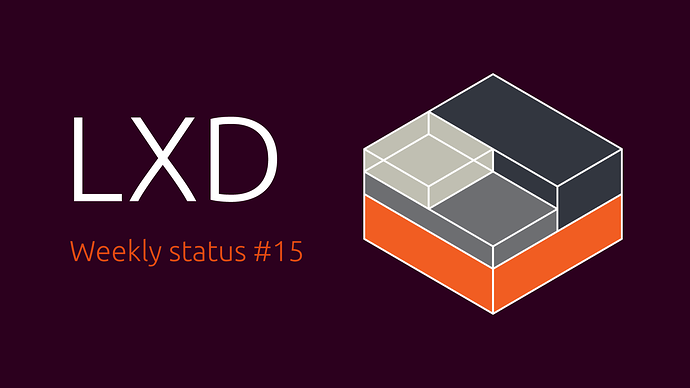 Weekly status for the week of the 11th to the 17th of September 2017.
Introduction
This week has been pretty quiet as far as upstream changes since half the team was attending the Open Source Summity, the Linux Plumbers Conference and the Linux Security Summit in Los Angeles, California.
We got to talk with other container runtime maintainers, kernel developers and users, having a lot of very productive discussions that should lead to a number of exciting features going forward.
Outside of that, we've been focusing on tweaks to the LXD snap, having it work on more platforms and better handle module loading. LXD 2.18 will work properly for Solus 3 users and we're almost ready with Fedora 26, OpenSUSE 42.3 and OpenSUSE Tumbleweed too.
LXD 2.18 is scheduled to be released tomorrow (Tuesday 19th of September).
Upcoming conferences and events
Open Source Summit Europe (Prague, October 2017)
Linux Piter 2017 (St. Petersburg - November 2017)
Ongoing projects
The list below is feature or refactoring work which will span several weeks/months and can't be tied directly to a single Github issue or pull request.
Preparation for LXD 2.18.
LXD documentation improvement.
Stable release work for LXC, LXCFS and LXD.
Upstream changes
The items listed below are highlights of the work which happened upstream over the past week and which will be included in the next release.
LXD
LXC
LXCFS
Distribution work
This section is used to track the work done in downstream Linux distributions to ship the latest LXC, LXD and LXCFS as well as work to get various software to work properly inside containers.
Ubuntu
Nothing to report this week
Snap
Call "modprobe" outside of the snap environment when module loading is needed.
Added support for Solus 3 to our CI environment.