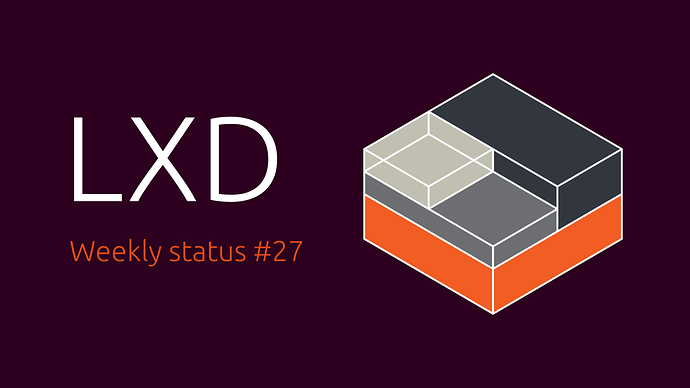 Weekly status for the week of the 4th to the 10th of December 2017.
Introduction
This past week was incredibly busy and featureful for both LXC and LXD.
We landed Infinband support in LXD, alongside new configuration keys to control the presence of /dev/lxd in the container and support for pre-migration of memory during container live-migration. That's on top of a variety of bugfixes and other still ongoing feature work.
On the LXC side of things, we've added a new reboot2 function to our API, making it possible to block on container restarts, added a new lxc.init.cwd configuration key to control the working directory of the container's init process, added a new lxc.sysctl set of configuration keys, all while also fixing numerous new issues reported by Coverity Scan and a number of other bugfixes and refactoring.
We'd like to give a shout out to Adrian Reber from Red Hat for the work on memory pre-migration in LXC and LXD as well as to the students of the University of Texas in Austin for contributing the /dev/lxd work in LXD and a number of refactoring of the LXC tools. It's always great to get new contributors to those projects!
We're now slowly preparing for LXD 2.21 due next Tuesday, hopefully getting a couple more features in there and fixing any last minute issues.
We also expect LXD 2.0.11 to be pushed to Ubuntu 14.04 later this week as LXD 2.0.11 in Ubuntu 16.04 seems to be doing very well.
Upcoming conferences and events
Ongoing projects
The list below is feature or refactoring work which will span several weeks/months and can't be tied directly to a single Github issue or pull request.
MAAS network integration in LXD
Stable release work for LXC, LXCFS and LXD
Upstream changes
The items listed below are highlights of the work which happened upstream over the past week and which will be included in the next release.
LXD
LXC
LXCFS
Distribution work
This section is used to track the work done in downstream Linux distributions to ship the latest LXC, LXD and LXCFS as well as work to get various software to work properly inside containers.
Ubuntu
Snap
Fixed lack of /etc/mtab in the snap environment (as needed for resize on LVM).
Cherry-picked a number of bugfixes into the stable LXD snap.