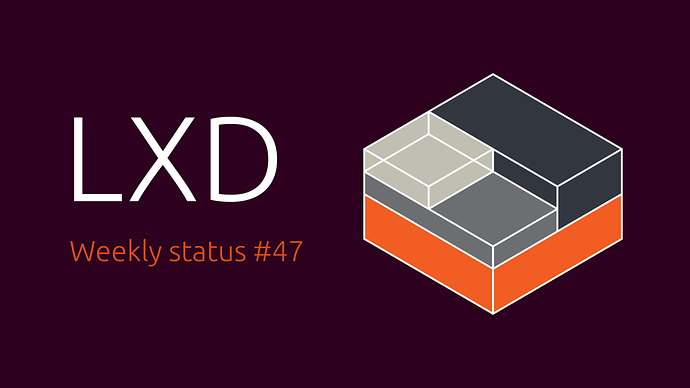 Weekly status for the week of the 7th to the 13th of May 2018.
Introduction
Last week was supposed to be release week for LXD 3.1 but due to a number of technical issues and some needed fixes in targeted branches, we ended up pushing the release another week, now scheduled and on target for tomorrow.
On top of last minute touches for LXD 3.1 and dealing with the usual set of bug reports, we've also been planning the next few months, creating issues for all expected new features as well as setting up the next set of milestones.
The list of upcoming features can be found in the soon milestone on Github.
Features that are being worked on will appear in the list below and get targeted to a particular LXD milestone.
This week, @stgraber will also be giving a talk about Containers and security at the NorthSec security conference in Montreal, Canada.
Upcoming conferences and events
Ongoing projects
The list below is feature or refactoring work which will span several weeks/months and can't be tied directly to a single Github issue or pull request.
Switching distribution building over to distrobuilder
Various kernel work
Stable release work for LXC, LXCFS and LXD
Upstream changes
The items listed below are highlights of the work which happened upstream over the past week and which will be included in the next release.
LXD
LXC
LXCFS
Nothing to report this week
Distrobuilder
Distribution work
This section is used to track the work done in downstream Linux distributions to ship the latest LXC, LXD and LXCFS as well as work to get various software to work properly inside containers.
Ubuntu
Nothing to report this week
Snap
Nothing to report this week