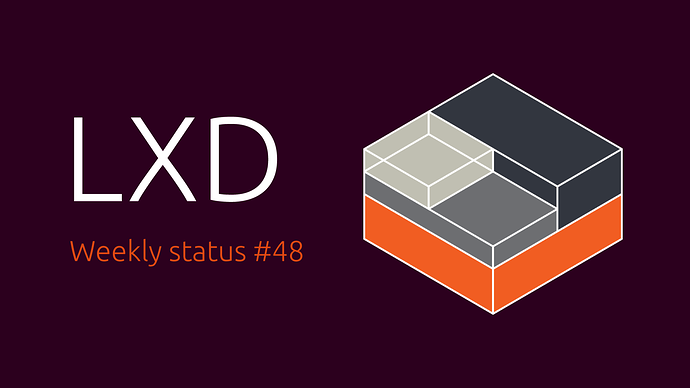 Weekly status for the week of the 14th to the 20th of May 2018.
Introduction
This past week was the release of LXD 3.1 with the highlight being the new backup API and a large number of fixes and tweaks on top of LXD 3.0.
We're now working on backporting a lot of those fixes back to the LXD 3.0 branch ahead of us tagging the first round of bugfix releases for LXC/LXD/LXCFS 3.0.
The LXD team was also present at the NorthSec security conference in Montreal, presenting on container security, handing out a large amount of stickers to attendees and then running over 20000 containers as part of the CTF part of the event.
Upcoming conferences and events
None confirmed at this time
Ongoing projects
The list below is feature or refactoring work which will span several weeks/months and can't be tied directly to a single Github issue or pull request.
Rewrite of the LXC-to-LXD migration tool
Switching distribution building over to distrobuilder
Various kernel work
Stable release work for LXC, LXCFS and LXD
Upstream changes
The items listed below are highlights of the work which happened upstream over the past week and which will be included in the next release.
LXD
LXC
LXCFS
Nothing to report this week
Distrobuilder
Distribution work
This section is used to track the work done in downstream Linux distributions to ship the latest LXC, LXD and LXCFS as well as work to get various software to work properly inside containers.
Ubuntu
Nothing to report this week
Snap
Uploaded LXD 3.1 to the candidate channel