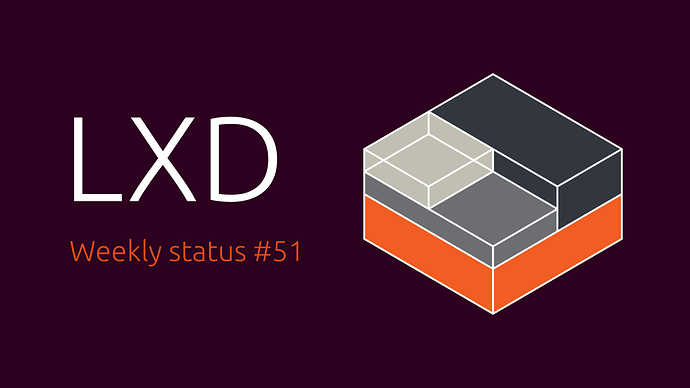 Weekly status for the week of the 4th to the 10th of June 2018.
Introduction
With 3.0.1 behind us, this week was spent dealing with packaging the new bugfix releases, updating the snap package and fixing a number of newly reported issues.
Feature wise, we landed long awaited the cross-pool container copy/move and have made good progress on a number of improvements to the proxy device.
Half the team is now on vacation or away for other reasons so we're expecting slightly slower progress than usual over the next week or so.
Upcoming conferences and events
None confirmed at this time
Ongoing projects
The list below is feature or refactoring work which will span several weeks/months and can't be tied directly to a single Github issue or pull request.
Unix socket support for the proxy devicec
Rewrite of the LXC-to-LXD migration tool
Switching distribution building over to distrobuilder
Various kernel work
Stable release work for LXC, LXCFS and LXD
Upstream changes
The items listed below are highlights of the work which happened upstream over the past week and which will be included in the next release.
LXD
LXC
LXCFS
Nothing to report this week
Distrobuilder
Distribution work
This section is used to track the work done in downstream Linux distributions to ship the latest LXC, LXD and LXCFS as well as work to get various software to work properly inside containers.
Ubuntu
Uploaded LXC 3.0.1 to cosmic
Uploaded LXCFS 3.0.1 to cosmic
Uploaded LXD 3.0.1 to cosmic
Uploaded LXC, LXCFS and LXD 3.0.1 to bionic (waiting for review)
Snap
Updated to LXC, LXCFS and LXD 3.0.1