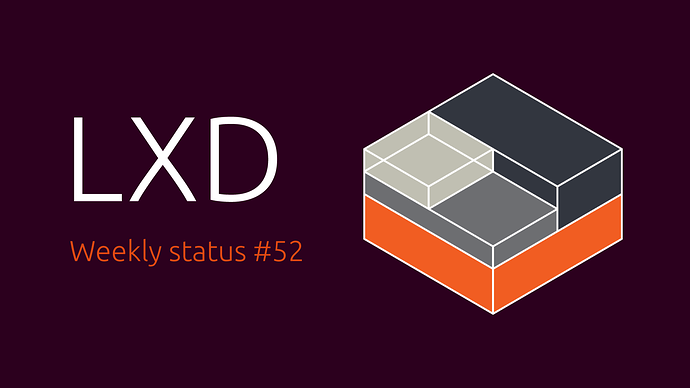 Weekly status for the week of the 11th to the 17th of June 2018.
Introduction
The focus for this past week was clearly on bugfixes, with a lot of fixes making their way into liblxc, solving a number of subtle resource leaks and race conditions.
On the LXD side, a lot of improvements went into the proxy device, which now supports UDP and Unix sockets, has much better error handling and work is ongoing on supporting port ranges.
The LXD cluster API was improved to simplify joining a new cluster member into an existing cluster. And a number of issues have gotten resolved ahead of LXD 3.2.
LXD 3.2 should be released in the next day or so and LXC, LXD and LXCFS 3.0.1 should become available to all Ubuntu 18.04 users by the end of the week, followed by backports to Ubuntu 16.04.
Upcoming conferences and events
Open Source Summit North America - Vancouver, BC (August 29-31)
Linux Plumbers Conference - Vancouver, BC (November 13-15)
Ongoing projects
The list below is feature or refactoring work which will span several weeks/months and can't be tied directly to a single Github issue or pull request.
Rewrite of the LXC-to-LXD migration tool
Switching distribution building over to distrobuilder
Various kernel work
Stable release work for LXC, LXCFS and LXD
Upstream changes
The items listed below are highlights of the work which happened upstream over the past week and which will be included in the next release.
LXD
LXC
LXCFS
Distrobuilder
Nothing to report this week
Distribution work
This section is used to track the work done in downstream Linux distributions to ship the latest LXC, LXD and LXCFS as well as work to get various software to work properly inside containers.
Ubuntu
LXC, LXCFS and LXD 3.0.1 are now going through testing in bionic-proposed
Fixed an upgrade issue for LXCFS 3.0.1 in cosmic and bionic
Snap
Nothing to report this week