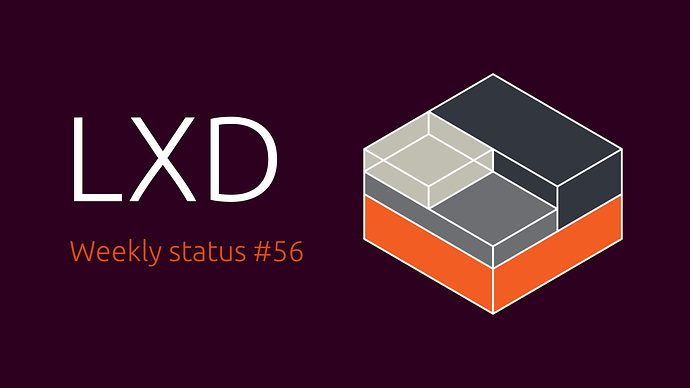 Weekly status for the week of the 9th to the 15th of July.
Introduction
A lot got merged this week, the new lxc-to-lxd was included, we added a way to override device configurations during copy/move, added some more configuration keys to the proxy device and added a way to extract a LXD preseed from a running server. That's on top of a healthy shared of bugfixes.
On the LXC side, a new lxc.monitor.signal.pdeath configuration key was added and quite a bit of refactoring and bug fixing happened.
Lastly, on the packaging side, we've been updating the snap package, including a wide number of fixes in there, improved lxd.migrate a bit, updated CRIU to 3.10 and added logic to copy older client configuration to the snap.
Upcoming conferences and events
Open Source Summit North America - Vancouver, BC (August 29-31)
Linux Plumbers Conference - Vancouver, BC (November 13-15)
Getting started with LXD workshop in Vancouver
@brauner and @stgraber will be giving a "Getting started with LXD" workshop as part of the Open Source Summit North America conference in Vancouver, BC.
Details can be found here: http://sched.co/FANz
Ongoing projects
The list below is feature or refactoring work which will span several weeks/months and can't be tied directly to a single Github issue or pull request.
Add support for custom volume snapshots
Improve integration with macaroon/candid
Switching distribution building over to distrobuilder
Various kernel work
Stable release work for LXC, LXCFS and LXD
Upstream changes
The items listed below are highlights of the work which happened upstream over the past week and which will be included in the next release.
LXD
LXC
LXCFS
Nothing to report this week
Distrobuilder
Nothing to report this week
Distribution work
This section is used to track the work done in downstream Linux distributions to ship the latest LXC, LXD and LXCFS as well as work to get various software to work properly inside containers.
Ubuntu
Initial work on deb-to-snap upgrade update (for Ubuntu 18.10)
Snap
Added root check to lxd.buginfo
Bumped CRIU to 3.10
Cherry-picked a number of upstream fixes to the latest snap
Updated lxd.migrate to cleanup more packages
Added support for lxd.migrate being called from the Ubuntu 18.10 deb package
Added logic to automatically copy the user configuration on initial run of the client