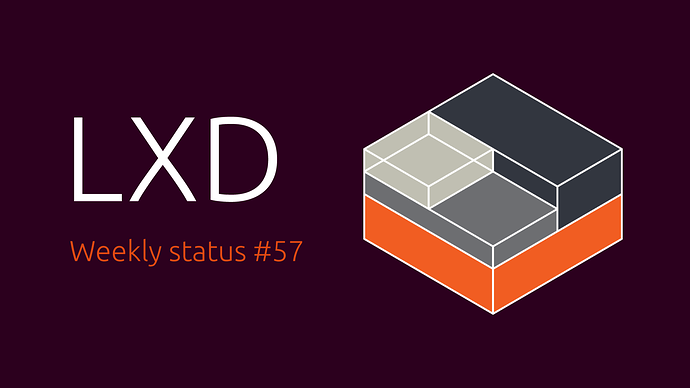 Weekly status for the week of the 16th to the 22nd of July.
Introduction
This past week, part of the team was traveling to a management meeting, the rest of the LXD team has been busy with bugfixes and features, gearing up for LXD 3.3.
A number of issues around the network API in LXD have been tracked down and resolved.
Quite a bit of work was done reworking dqlite to improve performance of the LXD clustering database, this will unfortunately miss LXD 3.3 but will be in LXD 3.4.
We've also done some smaller changes like adding support for the PROXY protocol in the proxy device, made it possible to delete storage pools that only contain internal image volumes and improved error and documentation.
LXD 3.3 is now scheduled for release on Wednesday (25th) assuming no major issues are found in testing.
More work also went into the upcoming switch from .deb package to the snap for Ubuntu 18.10 users. A test package is now available (Ubuntu 18.10 only) that will do the automated migration. Should you have a test system around running Ubuntu 18.10 that you want to try this on, just do:
apt-add-repository ppa:stgraber/experimental-devirt
apt update
apt dist-upgrade

Issues with the upgrade should be reported at https://github.com/lxc/lxd-pkg-snap/issues
Upcoming conferences and events
Open Source Summit North America - Vancouver, BC (August 29-31)
Linux Plumbers Conference - Vancouver, BC (November 13-15)
Getting started with LXD workshop in Vancouver
@brauner and @stgraber will be giving a "Getting started with LXD" workshop as part of the Open Source Summit North America conference in Vancouver, BC.
Details can be found here: http://sched.co/FANz
Ongoing projects
The list below is feature or refactoring work which will span several weeks/months and can't be tied directly to a single Github issue or pull request.
Add support for custom volume snapshots
Improve integration with macaroon/candid
Switching distribution building over to distrobuilder
Various kernel work
Stable release work for LXC, LXCFS and LXD
Upstream changes
The items listed below are highlights of the work which happened upstream over the past week and which will be included in the next release.
LXD
LXC
LXCFS
Nothing to report this week
Distrobuilder
Nothing to report this week
Distribution work
This section is used to track the work done in downstream Linux distributions to ship the latest LXC, LXD and LXCFS as well as work to get various software to work properly inside containers.
Ubuntu
Continued work on deb-to-snap upgrade logic
Snap
Added logic to create the lxd user
Re-synced packaging between all channels and tracks