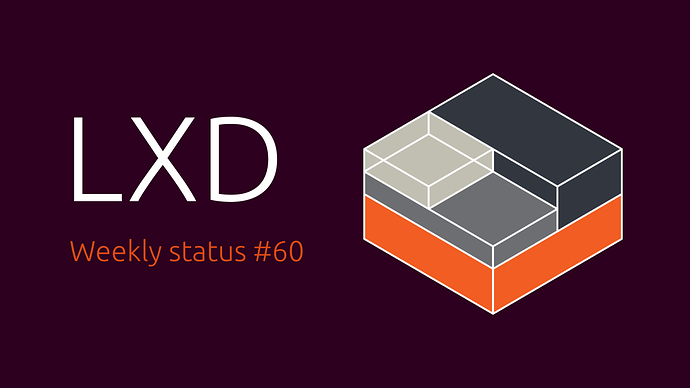 Weekly status for the week of the 6th to the 12th of August.
Introduction
This past week we spent a bit of time making LXD scale better by running a cluster with about 2000 active containers, checking what took longer than expected and making a few small optimizations to LXD which offered massive performance boosts.
Still on the clustering side, we've merged support for DNS clustering where LXD clusters using the FAN bridge will now get a single view of DNS on all nodes.
And then we have the usual set of other small improvements and bugfixes as well as some remaining fixes following the big dqlite change from last week.
This week, our focus will be on releases as we plan on releasing LXD 3.4 tomorrow, followed with a round of stable releases (3.0.2 for LXC, LXCFS and LXD) later in the week.
We're also getting ready for conference season, you can find the full list of events we'll be attending or presenting at below and have just opened the CFP for the containers micro-conference we run at the Linux Plumbers conference.
Upcoming conferences and events
Open Source Summit North America - Vancouver, BC (August 29-31)
Container Camp - London, UK (September 6-7)
Open Source and Linux Conference - Kiev, Ukraine (September 15)
All Systems Go - Berlin, Germany (September 28-30)
Linux Security Summit Europe - Edinburgh, UK (October 22-24)
Open Source Summit Europe - Edinburgh, UK (October 25-26)
Linux Plumbers Conference - Vancouver, BC (November 13-15)
Getting started with LXD workshop in Vancouver
@brauner and @stgraber will be giving a "Getting started with LXD" workshop as part of the Open Source Summit North America conference in Vancouver, BC.
Details can be found here: http://sched.co/FANz
Ongoing projects
The list below is feature or refactoring work which will span several weeks/months and can't be tied directly to a single Github issue or pull request.
Switching distribution building over to distrobuilder
Various kernel work
Stable release work for LXC, LXCFS and LXD
Upstream changes
The items listed below are highlights of the work which happened upstream over the past week and which will be included in the next release.
LXD
LXC
LXCFS
Nothing to report this week
Distrobuilder
Nothing to report this week
Distribution work
This section is used to track the work done in downstream Linux distributions to ship the latest LXC, LXD and LXCFS as well as work to get various software to work properly inside containers.
Ubuntu
Nothing to report this week
Snap
Nothing to report this week