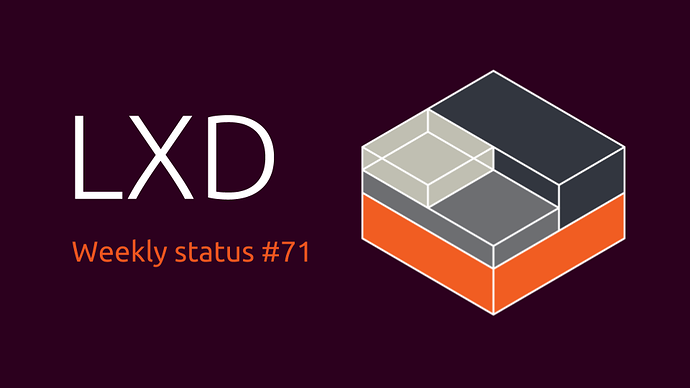 Weekly status for the week of the 22nd to the 28th of October.
Introduction
This past week was pretty quiet due to half the team traveling to various meetings/conferences.
We have now a pretty solid plan for the next 6 months of LXD development which will soon be reflected on Github by the addition of more milestones and targeted feature work.
We've also been busy fixing a number of issues reported around the recently added project feature and are making good progress on some upcoming work for LXD 3.7.
Upcoming conferences and events
Linux Plumbers Conference - Vancouver, BC (November 13-15)
FOSDEM - Brussels, Belgium (February 2-3)
GTC 2019 - San Jose, CA (March 17-21)
Ongoing projects
The list below is feature or refactoring work which will span several weeks/months and can't be tied directly to a single Github issue or pull request.
Incremental update of containers
Switching distribution building over to distrobuilder
Various kernel work
Stable release work for LXC, LXCFS and LXD
Upstream changes
The items listed below are highlights of the work which happened upstream over the past week and which will be included in the next release.
LXD
LXC
Nothing to report this week
LXCFS
Nothing to report this week
Distrobuilder
Nothing to report this week
Distribution work
This section is used to track the work done in downstream Linux distributions to ship the latest LXC, LXD and LXCFS as well as work to get various software to work properly inside containers.
Ubuntu
LXD 3.0.2 is now in bionic-proposed
Snap
Updated the list of bugfixes
Included a copy of ZFS 0.8
Stripped most binaries from the snap, reducing size
Fixed crash handling on startup
Cleaned up OpenVswitch startup error