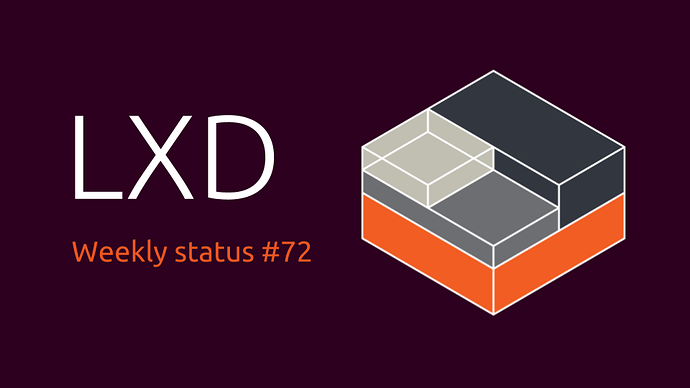 Weekly status for the week of the 29th of October to the 4th of November.
Introduction
This week's focus was on getting a few things sorted ahead of the LXD 3.7 release and fixing a number of bugs and smaller feature requests.
LXD 3.0.2 was finally released to those Ubuntu 18.04 users who are still using the deb packages, joining LXC 3.0.2 and LXCFS 3.0.2. All 3 packages will soon be backported to Ubuntu 16.04 too.
On the snap front, we've reworked the store listing for the LXD snap and have been updating the snap with bugfixes.
The LXD team is also getting ready for next week, where the entire team will be traveling to Vancouver, Canada for the Linux Plumbers Conference where we'll be running the containers micro-conference on Tuesday. Looking forward to seeing everyone over there!
Upcoming conferences and events
Linux Plumbers Conference - Vancouver, BC (November 13-15)
FOSDEM - Brussels, Belgium (February 2-3)
GTC 2019 - San Jose, CA (March 17-21)
Ongoing projects
The list below is feature or refactoring work which will span several weeks/months and can't be tied directly to a single Github issue or pull request.
Switching distribution building over to distrobuilder
Various kernel work
Stable release work for LXC, LXCFS and LXD
Upstream changes
The items listed below are highlights of the work which happened upstream over the past week and which will be included in the next release.
LXD
LXC
LXCFS
Nothing to report this week
Distrobuilder
Nothing to report this week
Distribution work
This section is used to track the work done in downstream Linux distributions to ship the latest LXC, LXD and LXCFS as well as work to get various software to work properly inside containers.
Ubuntu
LXD 3.0.2 has now been released to Ubuntu 18.04 users
Snap
Cherry-picked some upstream bugfixes