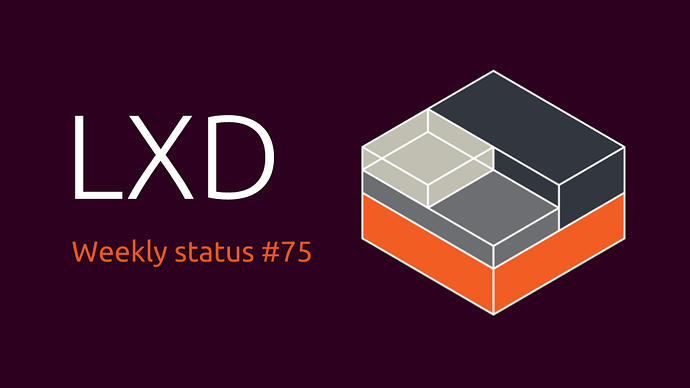 Weekly status for the week of the 19th to the 25th of November.
Introduction
This past week was pretty busy for us. We first started by catching up on any remaining backlog in our stable branches, in preparation for the 3.0.3 bugfix release which was put out on Thursday.
On top of that, we've been busy working on database improvements, a number of fixes and performance improvements to container migration, a few more fixes for projects and added support for cross-project container migration.
We're also busy working on some kernel features to make it easier to use Android with LXD and to improve overall container performance, 2019 will be an exciting year for containers!
We're hiring!
The LXD team at Canonical is hiring!
We're looking for a work from home software engineer based in the Americas or EMEA.
This is to work on LXD itself, designing and implementing new features, helping our users and squashing those pesky bugs!
Details at https://grnh.se/0d47b1411
Please don't hesitate to reach out to us here, by e-mail or IRC if you have any questions!
Upcoming conferences and events
FOSDEM - Brussels, Belgium (February 2-3)
GTC 2019 - San Jose, CA (March 17-21)
Ongoing projects
The list below is feature or refactoring work which will span several weeks/months and can't be tied directly to a single Github issue or pull request.
Rework of internal LXD storage handling
Dqlite 1.0
Switching distribution building over to distrobuilder
Various kernel work
Stable release work for LXC, LXCFS and LXD
Upstream changes
The items listed below are highlights of the work which happened upstream over the past week and which will be included in the next release.
LXD
LXC
LXCFS
Distrobuilder
Nothing to report this week
Distribution work
This section is used to track the work done in downstream Linux distributions to ship the latest LXC, LXD and LXCFS as well as work to get various software to work properly inside containers.
Ubuntu
Uploaded LXD, LXC and LXCFS 3.0.3 to Ubuntu 18.04 (waiting for review)
Uploaded LXD, LXC and LXCFS 3.0.3 to Ubuntu 18.10 (waiting for review)
Uploaded LXC and LXCFS 3.0.3 to Ubuntu 19.04
Snap
Updated 3.0 track to LXD 3.0.3, LXC 3.0.3 and LXCFS 3.0.3
Updated the latest track to LXC 3.0.3 and LXCFS 3.0.3
Cherry-picked bugfixes