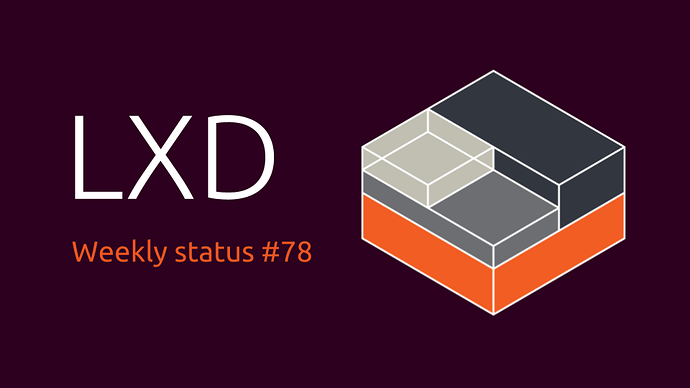 Weekly status for the week of the 10th to the 16th of December.
Introduction
The highlight for this past week is the release of both LXD 3.8 and LXC 3.1.
We've then been busy updating packages and pushing those two releases everywhere as well as handling a few bug reports by early adopters.
Other than keeping up with bug reports, we're also still busy reworking the internals of LXD storage, getting ready for a 1.0 release of dqlite and actively working on a number of kernel patchsets.
On the conference front, we've closed the FOSDEM CFP on Friday and are busy reviewing the very many submissions we've received. A full schedule should be published by the end of the week.
Upcoming conferences and events
FOSDEM - Brussels, Belgium (February 2-3)
GTC 2019 - San Jose, CA (March 17-21)
Ongoing projects
The list below is feature or refactoring work which will span several weeks/months and can't be tied directly to a single Github issue or pull request.
Rework of internal LXD storage handling
Dqlite 1.0
Kernel namespacing of Android binder IPC
Switching distribution building over to distrobuilder
Various kernel work
Stable release work for LXC, LXCFS and LXD
Upstream changes
The items listed below are highlights of the work which happened upstream over the past week and which will be included in the next release.
LXD
LXC
LXCFS
Distrobuilder
Nothing to report this week
Distribution work
This section is used to track the work done in downstream Linux distributions to ship the latest LXC, LXD and LXCFS as well as work to get various software to work properly inside containers.
Ubuntu
Released LXC and LXCFS 3.0.3 to Ubuntu 18.04 users
Released LXC and LXCFS 3.0.3 to Ubuntu 18.10 users
LXD 3.0.3 is in Ubuntu 18.04's proposed pocket
Snap
Released LXD 3.8 to stable
Updated LXC to 3.1
Updated ZFS 0.7 to 0.7.12
Updated ZFS 0.8 to 0.8.0~rc2
Cherry-picked some upstream fixes