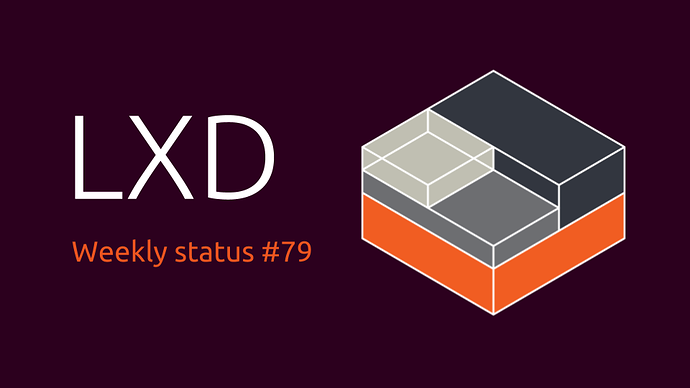 Weekly status for the weeks of the 17th of December to the 6th of January.
Introduction
Happy new year!
The LXD team was on break for the past two weeks and so we haven't published weekly updates.
As a result, this update will cover the end of 2018 as well as the first week of 2019.
@brauner's work to namespace the binder subsystem has now been merged in the upstream kernel!
On the LXD front, we're getting ready for the LXD 3.9 release this week which will primarily be a bugfix release on top of LXD 3.8 due to the limited development time with the holiday weeks.
For LXC, we're getting ready to release the tenth bugfix update for the 2.0 LTS series, this will contain a very large selection of bugfixes accumulated over the past couple of years and should fix all user reported issues with LXC 2.0 that we're aware of.
It looks like we've also finally worked out the last few details of moving CentOS image generation over to distrobuilder and will likely flip the switch later this week. This should be completely transparent as old and new images are virtually identical.
Upcoming conferences and events
FOSDEM - Brussels, Belgium (February 2-3)
GTC 2019 - San Jose, CA (March 17-21)
Ongoing projects
The list below is feature or refactoring work which will span several weeks/months and can't be tied directly to a single Github issue or pull request.
Rework of internal LXD storage handling
Dqlite 1.0
Switching distribution building over to distrobuilder
Various kernel work
Stable release work for LXC, LXCFS and LXD
Upstream changes
The items listed below are highlights of the work which happened upstream over the past week and which will be included in the next release.
LXD
LXC
LXCFS
Distrobuilder
Distribution work
This section is used to track the work done in downstream Linux distributions to ship the latest LXC, LXD and LXCFS as well as work to get various software to work properly inside containers.
Ubuntu
Released LXD 3.0.3 to Ubuntu 18.04 users
Backported LXC, LXD and LXCFS 3.0.3 to Ubuntu 16.04
Snap
Fixed some mount namespaced related issues
Improved snap state tracking for refreshes/reloads
Fixed some unicode issues when spawning a text editor
Added support for migrating clustered LXD installations