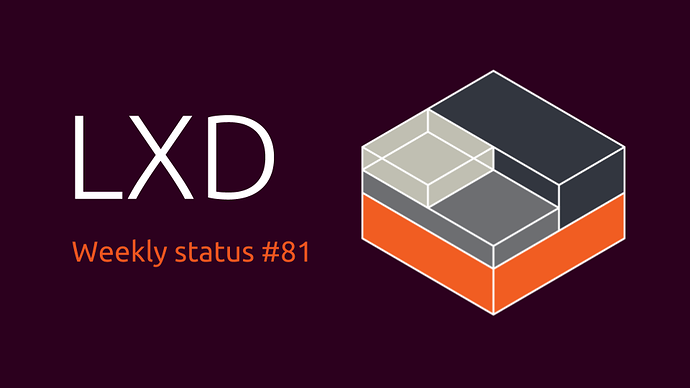 Weekly status for the weeks of the 14th to the 20th of January.
Introduction
A reasonably slow week as @brauner and @stgraber were in Cape Town to discuss the next 3 months of LXD development and collaborate with some other teams within Canonical.
The rest of the team kept on working on DQLite 1.0, cleaning up our storage code, implemented container snapshot expiry (pending review) and fixed a few issues with distrobuilder.
With our CentOS images now built through distrobuilder, we've now added support for those images on aarch64, i386 and ppc64le. The only architecture left is armhfp which requires a bit more logic in distrobuilder to work properly.
We're now looking at our ArchLinux and Sabayon images as the next round of images to switch over to distrobuilder.
On the LXC front this week, we got a few Android fixes, making it easier to run LXC containers on Android phones, tablets and other devices.
We also fixed a pretty rare but annoying issue in the LXD Go client which would hit following a network disconnection and cause hangs when waiting for a background operation to complete. Thanks to the Juju team for tracking down the issue!
Upcoming conferences and events
FOSDEM - Brussels, Belgium (February 2-3)
GTC 2019 - San Jose, CA (March 17-21)
Ongoing projects
The list below is feature or refactoring work which will span several weeks/months and can't be tied directly to a single Github issue or pull request.
Rework of internal LXD storage handling
Dqlite 1.0
Switching distribution building over to distrobuilder
Various kernel work
Stable release work for LXC, LXCFS and LXD
Upstream changes
The items listed below are highlights of the work which happened upstream over the past week and which will be included in the next release.
LXD
LXC
LXCFS
Distrobuilder
Distribution work
This section is used to track the work done in downstream Linux distributions to ship the latest LXC, LXD and LXCFS as well as work to get various software to work properly inside containers.
Ubuntu
Nothing to report this week
Snap
Added a workaround for some special /etc/resolv.conf setup
Bumped ZFS 0.8 to rc3
Cherry-pick bugfixes