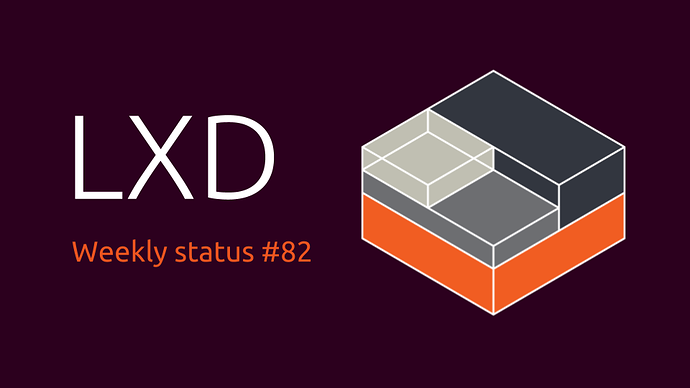 Weekly status for the weeks of the 21st to the 27th of January.
Introduction
This week's been pretty busy on the LXC side with quite a few bugfixes landing as well as some activity in LXCFS for CentOS support.
Still on CentOS, we're now producing armhfp images for CentOS 7 thanks to a recent change to distrobuilder to support those images.
On the LXD side, @monstermunchkin has been working on snapshot expiry and we've been busy investigating some bug reports.
This week, @brauner and @stgraber are traveling again, this time to Brussels where we'll be working together for a couple of days and then be running the containers devroom at FOSDEM over the weekend.
If you're in Brussels for FOSDEM, let us know and we can meet or drop by the containers devroom on Sunday!
Upcoming conferences and events
FOSDEM - Brussels, Belgium (February 2-3)
GTC 2019 - San Jose, CA (March 17-21)
Ongoing projects
The list below is feature or refactoring work which will span several weeks/months and can't be tied directly to a single Github issue or pull request.
Rework of internal LXD storage handling
Dqlite 1.0
Switching distribution building over to distrobuilder
Various kernel work
Stable release work for LXC, LXCFS and LXD
Upstream changes
The items listed below are highlights of the work which happened upstream over the past week and which will be included in the next release.
LXD
LXC
LXCFS
Distrobuilder
Distribution work
This section is used to track the work done in downstream Linux distributions to ship the latest LXC, LXD and LXCFS as well as work to get various software to work properly inside containers.
Ubuntu
Nothing to report this week
Snap
Nothing to report this week