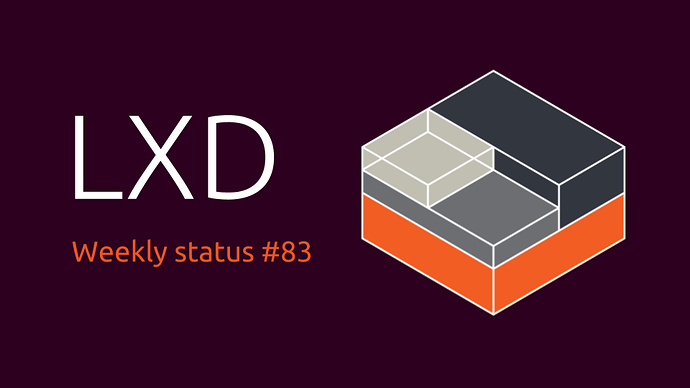 Weekly status for the weeks of the 28th of January to the 3rd of February.
Introduction
This week saw quite a lot of work going into LXD, including support for snapshot expiry (very useful for automated snapshots), a couple of UX tweaks and quite a few bugfixes and backend work.
@brauner and @stgraber were also both in Brussels for a few days of work followed by the weekend at FOSDEM including running the containers devroom all day Sunday.
Videos are currently being edited and should be available on youtube and on the FOSDEM website later this week.
On the LXC side of things, a few tweaks were done to the CGroup handling code and we spent a few hours designing our future integration for the syscall interception in userspace now that the kernel work from Tycho has been merged upstream.
Upcoming conferences and events
GTC 2019 - San Jose, CA (March 17-21)
Ongoing projects
The list below is feature or refactoring work which will span several weeks/months and can't be tied directly to a single Github issue or pull request.
Rework of internal LXD storage handling
Dqlite 1.0
Switching distribution building over to distrobuilder
Various kernel work
Stable release work for LXC, LXCFS and LXD
Upstream changes
The items listed below are highlights of the work which happened upstream over the past week and which will be included in the next release.
LXD
LXC
LXCFS
Nothing to report this week
Distrobuilder
Nothing to report this week
Distribution work
This section is used to track the work done in downstream Linux distributions to ship the latest LXC, LXD and LXCFS as well as work to get various software to work properly inside containers.
Ubuntu
Nothing to report this week
Snap
Nothing to report this week