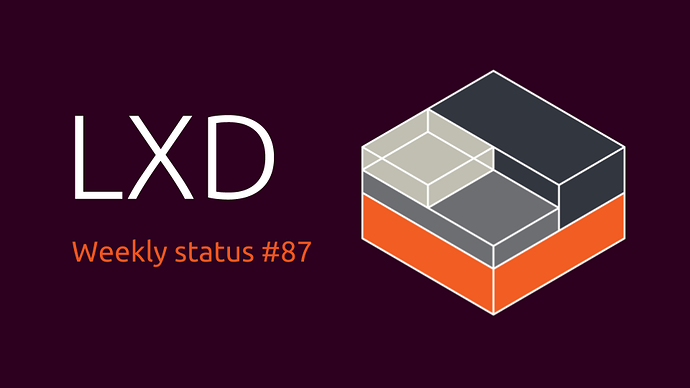 Weekly status for the weeks of the 25th of February to the 3rd of March.
Introduction
Last week, the entire LXD team was meeting in person in Malta for a week of planning and working together.
We mostly focused on fixing a number of LXD bugs, added two new distributions to distrobuilder, made some good progress on shiftfs and did a bunch of brainstorming for upcoming LXD features and refactoring.
Starting last week, both OpenSUSE and Oracle Linux images are now handled through distrobuilder, leaving only Plamo Linux and Ubuntu Core on the old build system.
Now with that behind us, the next milestone is LXD 3.11 to be released later today!
Upcoming conferences and events
GTC 2019 - San Jose, CA (March 17-21)
Ongoing projects
The list below is feature or refactoring work which will span several weeks/months and can't be tied directly to a single Github issue or pull request.
Rework of internal LXD storage handling
External RBAC support for LXD
Dqlite 1.0
Switching distribution building over to distrobuilder
Various kernel work
Stable release work for LXC, LXCFS and LXD
Upstream changes
The items listed below are highlights of the work which happened upstream over the past week and which will be included in the next release.
LXD
LXC
LXCFS
Nothing to report this week
Distrobuilder
Distribution work
This section is used to track the work done in downstream Linux distributions to ship the latest LXC, LXD and LXCFS as well as work to get various software to work properly inside containers.
Ubuntu
Nothing to report this week
Snap
Cherry-picked some bugfixes