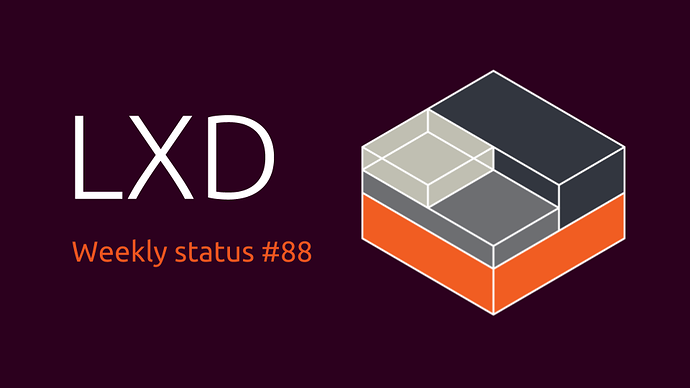 Weekly status for the weeks of the 4th to the 10th of March.
Introduction
The highlight of this past week was the release of LXD 3.11!
The rest of the week was then spent tracking down issues, fixing bugs and working on bigger features like shiftfs, RBAC and Dqlite 1.0.
On the image building side, no new distributions were added this week, though OpenSUSE 42.3 images have been re-introduced following user requests.
We've also been doing a few changes to distrobuilder and our build infrastructure to hopefully significantly reduce the amount of manual interventions needed to operate it day to day.
Next week, Christian Brauner (@brauner) and Stéphane Graber (@stgraber) will be in San Jose, California to attend and present LXD clustering at GTC 2019.
Upcoming conferences and events
GTC 2019 - San Jose, CA (March 17-21)
Ongoing projects
The list below is feature or refactoring work which will span several weeks/months and can't be tied directly to a single Github issue or pull request.
Rework of internal LXD storage handling
External RBAC support for LXD
Dqlite 1.0
Switching distribution building over to distrobuilder
Various kernel work
Stable release work for LXC, LXCFS and LXD
Upstream changes
The items listed below are highlights of the work which happened upstream over the past week and which will be included in the next release.
LXD
LXC
LXCFS
Nothing to report this week
Distrobuilder
Distribution work
This section is used to track the work done in downstream Linux distributions to ship the latest LXC, LXD and LXCFS as well as work to get various software to work properly inside containers.
Ubuntu
Nothing to report this week
Snap
Updated to LXD 3.11
Bumped to Go 1.12
Bumped to ZFS 0.7.13
Cherry-picked a LXC mount namespace fix