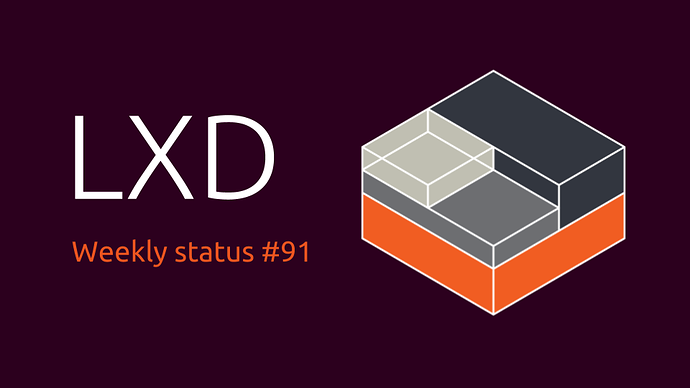 Weekly status for the weeks of the 25th to the 31st of March.
Introduction
The focus of this past week has been with landing shiftfs both in the Ubuntu kernel and in LXD.
The LXD side has now been merged and will be part of LXD 3.12, the kernel side is going through final review but should be included shortly. We expect some other distributions to pick up those patches though we do not expect them to go mainline in their current shape (where a VFS based approach may be preferred).
Other than shiftfs, we've also been busy fixing a variety of other bugs, tracking some memory leaks going on in LXD (or possibly dqlite) and adding more distributions to distrobuilder.
Plamo Linux builds using distrobuilder have been added to Jenkins but currently fail on Intel 32bit, once that's sorted, we'll switch over and look at adding Alt Linux next.
Coming up too is LXD 3.12 to be released later this week once we have a few last minute issues and improvements included.
Ongoing projects
The list below is feature or refactoring work which will span several weeks/months and can't be tied directly to a single Github issue or pull request.
Rework of internal LXD storage handling
External RBAC support for LXD
Dqlite 1.0
Switching distribution building over to distrobuilder
Various kernel work
Stable release work for LXC, LXCFS and LXD
Upstream changes
The items listed below are highlights of the work which happened upstream over the past week and which will be included in the next release.
LXD
LXC
Nothing to report this week
LXCFS
Nothing to report this week
Distrobuilder
Distribution work
This section is used to track the work done in downstream Linux distributions to ship the latest LXC, LXD and LXCFS as well as work to get various software to work properly inside containers.
Ubuntu
LXC 2.0.11 is now available in xenial-proposed.
Snap
Nothing to report this week