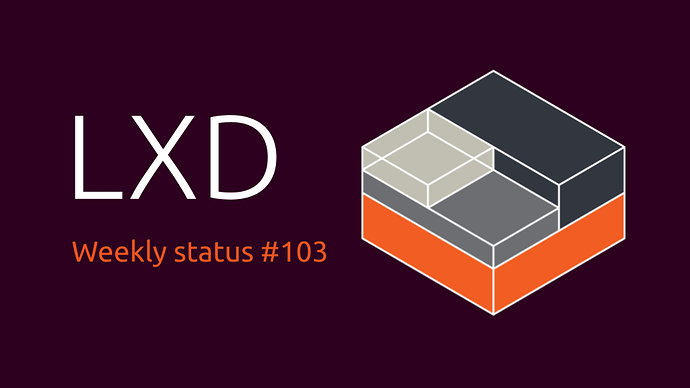 Weekly status for the weeks of the 17th to the 23rd of June.
Introduction
This last week has seen the addition of new functionality for MAC filtering and VLAN support for SR-IOV devices in LXD. This allows for SR-IOV virtual functions to be configured by LXD before being passed into a container.
We have also changed the way that DHCP leases are removed during container deletion to improve performance when creating and deleting containers quickly. Previously this involved restarting dnsmasq (the DHCP server we use internally), however now we are sending a DHCP release request directly on behalf of the container, which avoids the restart and associated DHCP and DNS service interruption to other containers.
There was also continued work done on the syscall interception functionality.
We have also released LXD, LXC and LXCFS 3.0.4 which are the latest in our LTS bugfix series. Release announcements for those three will be pushed out in the coming days.
Upcoming events
Ongoing projects
The list below is feature or refactoring work which will span several weeks/months and can't be tied directly to a single Github issue or pull request.
Isolated networking
Rework of internal LXD storage handling
Dqlite 1.0
Various kernel work
Stable release work for LXC, LXCFS and LXD
Upstream changes
The items listed below are highlights of the work which happened upstream over the past week and which will be included in the next release.
LXD
LXC
LXCFS
Nothing to report this week
Distrobuilder
Nothing to report this week
Distribution work
This section is used to track the work done in downstream Linux distributions to ship the latest LXC, LXD and LXCFS as well as work to get various software to work properly inside containers.
Ubuntu
Nothing to report this week
Snap
[3.0/candidate] Updated to match packaging of latest track
[3.0/edge] Update to match packaging of latest track
Added pigz to all channels
[latest/candidate] Cherry-picked upstream fixes
[latest/candidate] Updated to LXCFS 3.0.4
[3.0/candidate] Updated to LXC 3.0.4
[3.0/candidate] Updated to LXCFS 3.0.4
[3.0/candidate] Updated to LXD 3.0.4