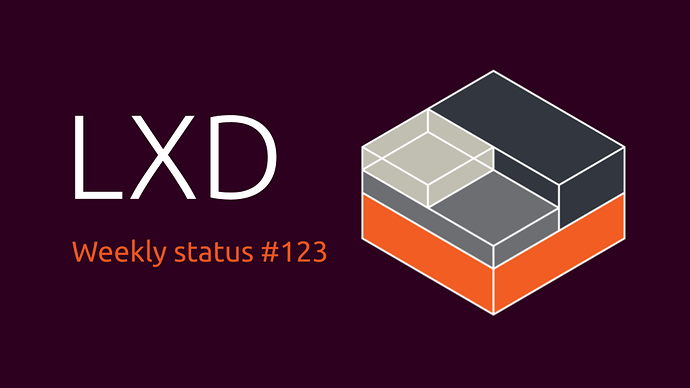 Weekly status for the week of the 4th November to the 10th of November.
Introduction
This past week has seen the new LXD storage API merged, along with a working directory driver for it. Other storage drivers will follow shortly.
Also this week we have added the initial implementation of virtual machine support. VM support only uses the new storage API and so at this time VMs can only be created on dir backed storage pools.
Example of creating a VM:
lxc launch ubuntu:18.04 v1 --vm -s dirpool -p vmprofile

At this time, VM support consists of:
Ability to create and launch VMs on dir storage pools (either from Ubuntu images or empty the using PXE boot).
Ability to specify RAM and CPU count using limits.memory and limits.cpu settings.
Raw console access (using lxc console) - you should use LXD's cloud init support to set a password for logging in.
Bridged networking.
VM agent - ability to see the VM's state in lxc ls and perform file push and pulls.
Contribute to LXD
Ever wanted to contribute to LXD but not sure where to start?
We've recently gone through some effort to properly tag issues suitable for new contributors on Github: https://github.com/lxc/lxd/labels/Easy
You can also find a slightly longer, more detailed list here: Contributing to LXD
FOSDEM 2020 - containers devroom
We will once again be running the containers devroom at the upcoming FOSDEM conference in Brussels, Belgium. This year it's going to be over the weekend of the 1st and 2nd of February.
The detailed call for papers can be found here: FOSDEM 2020 containers devroom: Call for papers
Upcoming events
Ongoing projects
The list below is feature or refactoring work which will span several weeks/months and can't be tied directly to a single Github issue or pull request.
Virtual machine support
Rework of internal LXD storage handling
Distrobuilder 1.0 release
Various kernel work
Stable release work for LXC, LXCFS and LXD
Upstream changes
The items listed below are highlights of the work which happened upstream over the past week and which will be included in the next release.
LXD
LXC
LXCFS
Nothing to report this week
Distrobuilder
Distribution work
This section is used to track the work done in downstream Linux distributions to ship the latest LXC, LXD and LXCFS as well as work to get various software to work properly inside containers.
Ubuntu
Nothing to report this week
Snap
Added squashfs-tools-ng
Split xtables to its own part