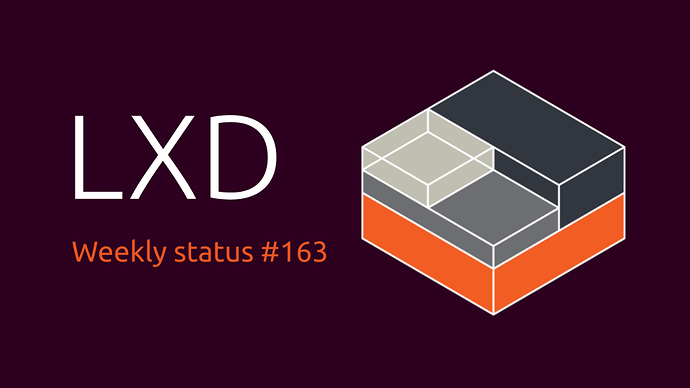 Weekly status for the week of the 24th of August to the 30th of August.
Introduction
The highlight of the past week was the release of LXD 4.5. Please see the release notes for more information.
LXD
In addition to the LXD 4.5 release above, there have also been the usual set of improvements and fixes, including adding AppArmor confinement of the forkproxy process (which is started when using the proxy device in non-NAT mode) and we now more intelligently handle initiating automatic scheduled volume snaphots for remote storage pools when clustered. Previously this was done repeatedly on every node in the cluster. However now we pick a single node in the cluster to initiate the snapshot. This is picked randomly (to distribute the load across the cluster), but in a stable fashion so that the same node always starts the snapshot for the same volume (unless that node goes away). This ensures that we only take a single snapshot without having to coordinate between the nodes.
There have been several changes to the cluster node join process; we have removed the legacy cluster join API method (i.e not providing ServerAddress field), and there is now a new internal LXD user agent used to indicate to the local node that the actions being requested are part of a pre-cluster-join process. This allows adding cluster nodes when using OVN networks (which need to avoid setting up the logical network again when creating the node-local network).
Several issues have been also been fixed around ZFS volume migration, including ensuring that transferred snapshot volumes are always created on the same storage pool as the parent volume. This fixes an issue when transferring snapshots when specifying the target pool override option.
LXC
A fix for detecting when the rootfs of a container is running on a ramfs has been added to support recent kernels. A fix has also been added to support armhf builds.
Contribute to LXD
Ever wanted to contribute to LXD but not sure where to start?
We've recently gone through some effort to properly tag issues suitable for new contributors on Github: Easy issues for new contributors
Upcoming events
Nothing to report this week
Ongoing projects
The list below is feature or refactoring work which will span several weeks/months and can't be tied directly to a single Github issue or pull request.
Distrobuilder Windows support
Virtual networks in LXD
Various kernel work
Stable release work for LXC, LXCFS and LXD
Upstream changes
The items listed below are highlights of the work which happened upstream over the past week and which will be included in the next release.
LXD
LXC
LXCFS
Nothing to report this week
Distrobuilder
Nothing to report this week
Distribution work
This section is used to track the work done in downstream Linux distributions to ship the latest LXC, LXD and LXCFS as well as work to get various software to work properly inside containers.
Ubuntu
Nothing to report this week
Snap