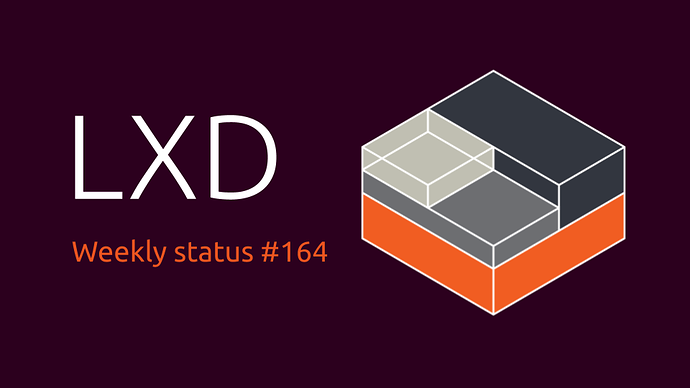 Weekly status for the week of the 31st of August to the 6th of September.
Introduction
LXD
This past week we have continued to work on the OVN networking feature, with the primary focus on improving clustering support so that the same OVN network can be used across LXD nodes (similar to fan networking, but sharing the same layer 2 subnet across nodes).
We have also been adding the groundwork to add project support for networks, so that projects can create their OVN networks. There will be more to follow on this front soon.
The ability to send a unix signal to a non-interactive exec session has been added.
An issue introduced with LXD 4.5 that was introduced with the remote snapshot scheduling feature relating to storage volume IDs has been fixed t
An issue with custom volume snapshots being double-UID-shifted when restored has been fixed, as well as an issue with the fan network incorrectly calculating its IP address when an IP from the underlay subnet was added to a different interface than the main underlay subnet.
A possible LXD crash has been discovered as part of the OVN work and fixed.
LXC
A possible null pointer dereference in lxc-attach has been fixed.
LXCFS
Improvements to log messages and a fix to get_min_memlimit on non-glibc systems has been fixed.
Contribute to LXD
Ever wanted to contribute to LXD but not sure where to start?
We've recently gone through some effort to properly tag issues suitable for new contributors on Github: Easy issues for new contributors
Upcoming events
Nothing to report this week
Ongoing projects
The list below is feature or refactoring work which will span several weeks/months and can't be tied directly to a single Github issue or pull request.
Distrobuilder Windows support
Virtual networks in LXD
Various kernel work
Stable release work for LXC, LXCFS and LXD
Upstream changes
The items listed below are highlights of the work which happened upstream over the past week and which will be included in the next release.
LXD
LXC
LXCFS
Distrobuilder
Nothing to report this week
Distribution work
This section is used to track the work done in downstream Linux distributions to ship the latest LXC, LXD and LXCFS as well as work to get various software to work properly inside containers.
Ubuntu
Nothing to report this week
Snap
Nothing to report this week