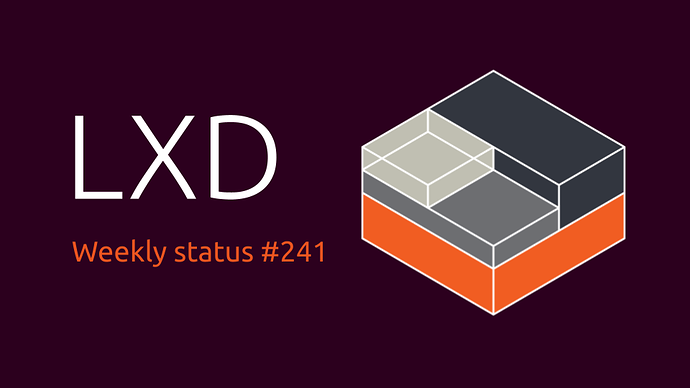 Weekly status for the week of the 21st March to the 27th March.
Introduction
This past week we have been focussing on finishing our roadmap items and preparing for the LXD 5.0 LTS release.
Additionally @stgraber has added a video on using Juju to operate a LXD cluster with Ceph, OVN and Grafana:
LXD
LXD now requires Go >= 1.18 to build due to upstream dependencies also requiring it.
New features:
Block disk hotplug for VMs.
Improvements:
Degraded network startup.
Bug fixes:
Support --allow-inconsistent for cluster migrations.
Allow disabling shiftfs indepedently of idmapped mounts (fixes shifting in the snap package).
Add missing datasource field to Grafana dashboards.
Fix regression in VM cdrom handling caused by work to add io_uring support.
Remove old image storage volume record after image refresh.
Clean up operations on LXD shutdown.
LXC
Improvements:
Improve meson buid tests.
Add fastpath routine on mkdir_p.
Distrobuilder
Improvements:
Use available w11 and 2k22 drivers.
LXD Charm
Improvements:
Adds support for core.dns_address.
YouTube videos
The LXD team is running a YouTube channel with live streams covering LXD releases and weekly videos on different aspects of LXD. You may want to give it a watch and/or subscribe for more content in the coming weeks.
Contribute to LXD
Ever wanted to contribute to LXD but not sure where to start?
We've recently gone through some effort to properly tag issues suitable for new contributors on Github: Easy issues for new contributors
Upcoming events
Nothing planned currently.
Ongoing projects
The list below is feature or refactoring work which will span several weeks/months and can't be tied directly to a single Github issue or pull request.
Prometheus & grafana integration with the LXD charm
Various kernel work
Stable release work for LXC, LXCFS and LXD
Upstream changes
The items listed below are highlights of the work which happened upstream over the past week and which will be included in the next release.
LXD
LXC
LXCFS
Nothing to report this week
Distrobuilder
Dqlite (RAFT library)
Nothing to report this week
Dqlite (database)
Nothing to report this week
Dqlite (Go bindings)
Nothing to report this week
LXD Charm
Distribution work
This section is used to track the work done in downstream Linux distributions to ship the latest LXC, LXD and LXCFS as well as work to get various software to work properly inside containers.
Ubuntu
Updated lxd in Ubuntu 20.04 to handle LXD 5.0
LXC 4.0.12 available for testing in focal and impish
Snap
lxd: Cherry-pick upstream bugfxies