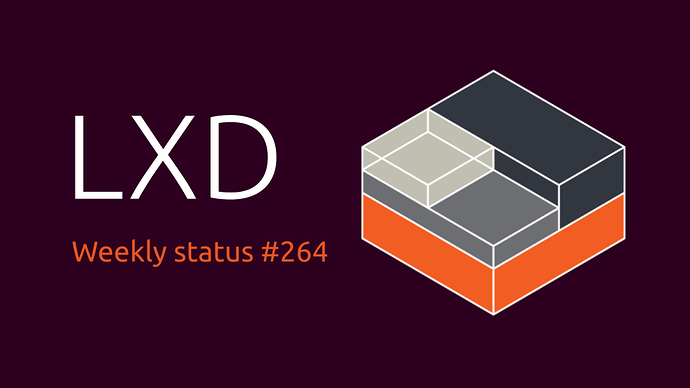 Weekly status for the week of the 29th August to the 4th September.
Introduction
The focus for the past week was on Dqlite improvements and fixes whilst we continue our roadmap work in LXD.
Additionally @stgraber concludes his LXD storage pool drivers video series by looking at the original one, the Directory driver:
LXD
Improvements:
Added instance-ready event.
Documentation improvements.
Bug fixes:
Fixed an issue with the AppArmor profile that prevented image unpack when gzip was a symlink.
Dqlite (RAFT library)
Improvements:
Add additional async getaddrinfo step to outgoing tcp connections as a first step to allow usage of hostnames instead of static IPs.
Bug fixes:
Uvappend 8-byte alignment so that all the raft_buffers of the raft_entry structs in the entries array have a len that is a multiple of 8, which is required.
Dqlite (database)
Improvements:
Don't unnecessarily realloc in loop in buffer.
Bug fixes:
Expose string errors from dqlite_node_create.
Move endian-sensitive code to src/lib/byte.h and rename functions from that header using camel-case style.
Rewrite to avoid triggering -Wconversion in lib/byte.
Dqlite (Go bindings)
Improvements:
Account for new dqlite_node_create changes.
YouTube videos
The LXD team is running a YouTube channel with live streams covering LXD releases and weekly videos on different aspects of LXD. You may want to give it a watch and/or subscribe for more content in the coming weeks.
Contribute to LXD
Ever wanted to contribute to LXD but not sure where to start?
We've recently gone through some effort to properly tag issues suitable for new contributors on Github: Easy issues for new contributors
Upcoming events
Nothing planned currently.
Ongoing projects
The list below is feature or refactoring work which will span several weeks/months and can't be tied directly to a single Github issue or pull request.
Stable release work for LXC, LXCFS and LXD
Dqlite disk-only operation mode
Upstream changes
The items listed below are highlights of the work which happened upstream over the past week and which will be included in the next release.
LXD
LXC
LXCFS
Nothing to report this week
Distrobuilder
Nothing to report this week
Dqlite (RAFT library)
Dqlite (database)
Dqlite (Go bindings)
LXD Charm
Nothing to report this week
Distribution work
This section is used to track the work done in downstream Linux distributions to ship the latest LXC, LXD and LXCFS as well as work to get various software to work properly inside containers.
Ubuntu
Nothing to report this week
Snap
Nothing to report this week