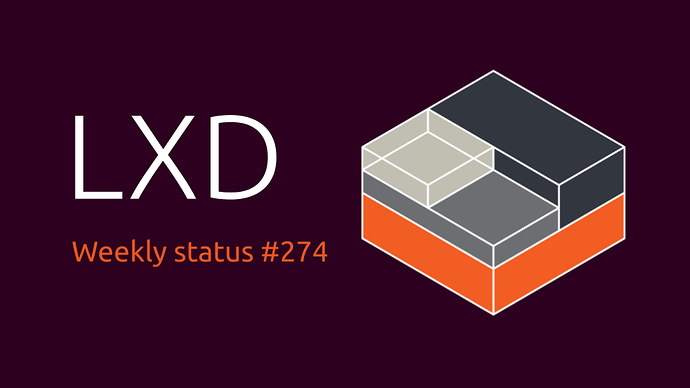 Weekly status for the week of the 7th November to the 13th November.
Introduction
This past week has been very quiet due to most members of the team being off for some time due to the previous week(s) sprints.
However @stgraber has still added a video covering security in LXD:
LXD
Improvements:
Use strict key checking for lxd init preseed config so that if a preseed config from an incompatible version is used the initialization will fail rather than ignoring unknown config.
Several documentation improvements.
LXC
Bug fixes:
Fixed an off-by-one error constructing overlay mount options if rootfs options are provided and modern overlayfs (i.e. requiring a workdir) is used.
Fixed the static library path. Since switching to meson, liblxc.a is being shipped as liblxc_static.a. This has been changed back to liblxc.a.
YouTube videos
The LXD team is running a YouTube channel with live streams covering LXD releases and weekly videos on different aspects of LXD. You may want to give it a watch and/or subscribe for more content in the coming weeks.
Contribute to LXD
Ever wanted to contribute to LXD but not sure where to start?
We've recently gone through some effort to properly tag issues suitable for new contributors on Github: Easy issues for new contributors
Upcoming events
Nothing planned currently.
Ongoing projects
The list below is feature or refactoring work which will span several weeks/months and can't be tied directly to a single Github issue or pull request.
Stable release work for LXC, LXCFS and LXD
Dqlite disk-only operation mode
Upstream changes
The items listed below are highlights of the work which happened upstream over the past week and which will be included in the next release.
LXD
LXC
LXCFS
Nothing to report this week
Distrobuilder
Nothing to report this week
LXD Charm
Nothing to report this week
Distribution work
This section is used to track the work done in downstream Linux distributions to ship the latest LXC, LXD and LXCFS as well as work to get various software to work properly inside containers.
Ubuntu
Nothing to report this week
Snap
Nothing to report this week