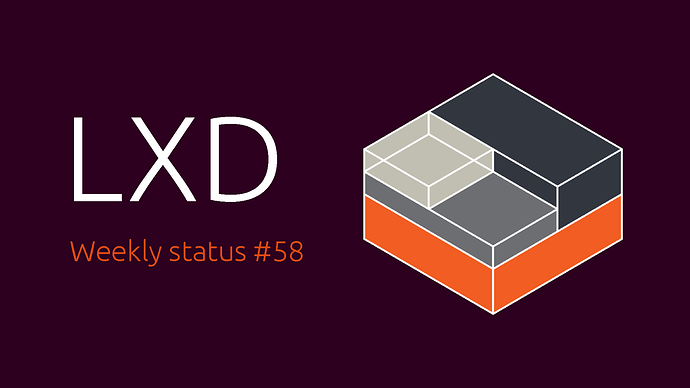 Weekly status for the week of the 23rd to the 29th of July.
Introduction
The main highlight for this past week was the release of LXD 3.3!
We managed to get quite a few last minutes tweak and improvements into LXD just before the 3.3 release, including improvements to the FAN bridge, a number of new network configuration keys and NAT support in the proxy device!
On the LXC side, the highlight for this week was the addition of native AppArmor profile generation, including support for namespacing and stacking of AppArmor profiles.
Upcoming conferences and events
Open Source Summit North America - Vancouver, BC (August 29-31)
Linux Plumbers Conference - Vancouver, BC (November 13-15)
Getting started with LXD workshop in Vancouver
@brauner and @stgraber will be giving a "Getting started with LXD" workshop as part of the Open Source Summit North America conference in Vancouver, BC.
Details can be found here: http://sched.co/FANz
Ongoing projects
The list below is feature or refactoring work which will span several weeks/months and can't be tied directly to a single Github issue or pull request.
Add support for custom volume snapshots
Improve integration with macaroon/candid
Switching distribution building over to distrobuilder
Improved clustering performance
Various kernel work
Stable release work for LXC, LXCFS and LXD
Upstream changes
The items listed below are highlights of the work which happened upstream over the past week and which will be included in the next release.
LXD
LXC
LXCFS
Distrobuilder
Nothing to report this week
Distribution work
This section is used to track the work done in downstream Linux distributions to ship the latest LXC, LXD and LXCFS as well as work to get various software to work properly inside containers.
Ubuntu
Nothing to report this week
Snap
Started logging mount namespace changes
Moved away from calling lxc info during the shutdown sequence
Tweaked kmod wrapper to allow for unprivileged modinfo calls
Added logic to detect snap/deb conflicts and force the user to sort it out
Removed waitready timeout on startup
Updated LXD to 3.3
Working on fixing issues on core snap upgrades