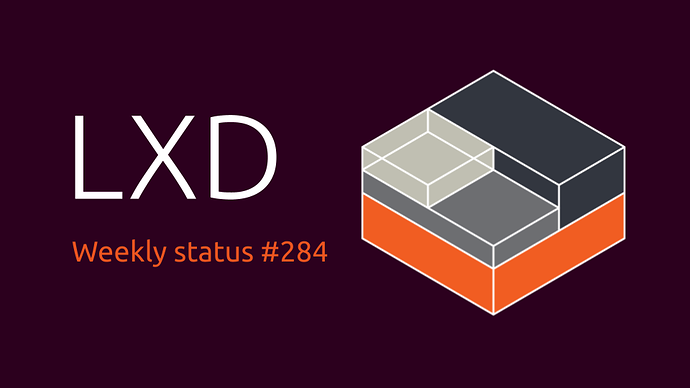 Weekly status for the week of 30th January to 5th February.
Introduction
This past week has been fairly quiet as a good chunk of the LXD team were in Brussels having a mini-sprint and attending FOSDEM hosting the Containers and Kernel dev rooms.
Job openings
Canonical Ltd. strengthens its investment into LXD and is looking at building multiple squads under the technical leadership of @stgraber.
As such, we are looking for first line managers (highly technical) and individual contributors to grow the team and pursue our efforts around scalability and clustering.
All positions are 100% remote with some travel for internal events and conferences.
For more info please see LXD related openings at Canonical Ltd (2022-2023)
LXD
Improvements:
Added support for a custom http.RoundTripper in the LXD Go client package by setting ConnectionArgs.TransportWrapper.
Improve error message when the backup/index.yaml file cannot be found in a backup tarball that is being restored. This better indicates that index.yaml file is expected in the backup directory of the tarball.
LXCFS
Bug fixes:
Reverted change init: respect --prefix when installing systemd unit files as was still causing issues with files in the incorrect location.
YouTube videos
The LXD team is running a YouTube channel with live streams covering LXD releases and weekly videos on different aspects of LXD. You may want to give it a watch and/or subscribe for more content in the coming weeks.
https://www.youtube.com/lxd-videos
Contribute to LXD
Ever wanted to contribute to LXD but not sure where to start?
We've recently gone through some effort to properly tag issues suitable for new contributors on Github: Easy issues for new contributors
Upcoming events
Nothing to report this week
Ongoing projects
The list below is feature or refactoring work which will span several weeks/months and can't be tied directly to a single Github issue or pull request.
Stable release work for LXC, LXCFS and LXD
Upstream changes
The items listed below are highlights of the work which happened upstream over the past week and which will be included in the next release.
LXD
LXC
LXCFS
Distrobuilder
Nothing to report this week
LXD Charm
Nothing to report this week
Distribution work
This section is used to track the work done in downstream Linux distributions to ship the latest LXC, LXD and LXCFS as well as work to get various software to work properly inside containers.
Ubuntu
Nothing to report this week
Snap
Nothing to report this week