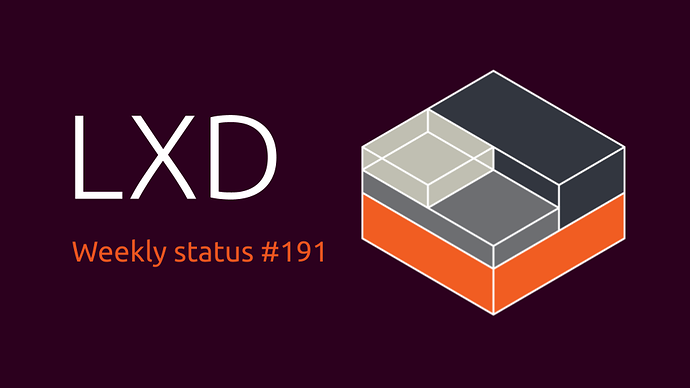 Weekly status for the week of the 22nd of March to the 28th of March.
Introduction
This past week there has been a focus on stability improvements, testing and bug fixes. We have also continued on migrating our API docs to SWAGGER.
The LXD team is hiring
Canonical Ltd. is expanding its investment into LXD with a total of 5 additional roles.
The primary focus of this effort is around scalability and clustering as well as developing compelling solutions using LXD for our customers.
All LXD positions are 100% remote with some travel for internal events and conferences.
LXD
This week LXD gained the ability to use the --console flag when performing an lxc stop operation so that you can see shutdown messages.
LXD also now supports the --quiet flag when moving an instance within a cluster using the --target flag.
LXC
LXC has seen a lot of work on adding support for oss-fuzz this past week, and as a result several fixes have been applied.
Distrobuilder
Several fixes for CentOS have been applied this past week, as well as a null-pointer-exception fix in logging, and a new Windows specific version flag --windows-version was added.
Dqlite (RAFT library)
This past week the Dqlite RAFT library has seen improvements in the heartbeat system to use lighter weight empty AppendEntries rather than the larger SnapshotInstall commands. This will reduce network traffic.
An issue that can cause a follower to crash if it receives an incomplete snapshot from a leader has been fixed by using a tmp-file to ensure only fully written snapshots are ever read and sent to a follower.
Support for arm64 and ppc64le continuous integration tests have also been fixed.
Youtube channel
We've started a Youtube channel with live streams covering LXD releases and its use in the wider ecosystem.
You may want to give it a watch and/or subscribe for more content in the coming weeks.
Contribute to LXD
Ever wanted to contribute to LXD but not sure where to start?
We've recently gone through some effort to properly tag issues suitable for new contributors on Github: Easy issues for new contributors
Upcoming events
Nothing to report this week
Ongoing projects
The list below is feature or refactoring work which will span several weeks/months and can't be tied directly to a single Github issue or pull request.
Distrobuilder Windows support
Virtual networks in LXD
Various kernel work
Stable release work for LXC, LXCFS and LXD
Upstream changes
The items listed below are highlights of the work which happened upstream over the past week and which will be included in the next release.
LXD
LXC
LXCFS
Nothing to report this week
Distrobuilder
Dqlite (RAFT library)
Dqlite (database)
Nothing to report this week
Dqlite (Go bindings)
Nothing to report this week
Distribution work
This section is used to track the work done in downstream Linux distributions to ship the latest LXC, LXD and LXCFS as well as work to get various software to work properly inside containers.
Ubuntu
Nothing to report this week
Snap
qemu: Fix virtio-9p-ccw (9p on s390x)